In other words, what is it about Sarah J Maas Crescent City that got Genz hooked up? Yes, we're talking about the internet generation that can go 10 minutes (crazy) without their phones.
But thanks to them, although the OGs knew about the series and loved them to their very core, Genz and their TikTok culture booktok made it so popular and, fortunately, loved.
The culture got the best of me; don't blame me, the fanarts lured me, and I started the famous series that soon topped my favorite books.
Before you dive into my oh-so-opinionated discussion of a whole series, I suggest you read the blurb of each of them (the last one is not out yet; you have to bear my predictions for this one; you'll thank me). I'm not saying this out of spike. This is out of experience, if you may ask.
Crescent City book blurbs will create a vague image in your mind of what will happen. When you read my opinions, summarized version, and character decode assassinations, things will start to make sense, and things will start to feel real.
Most importantly, you can leave having an opinion of your own, which is not just a blueprint of what I just said.
A Brief Look into the Crescent City Series
Sarah J. Maas has this amazing habit of linking her every other book to each other, so if you want the best of the best experiences, I'd suggest reading or, at least, having an idea of the series and the included books. It works; nevertheless, though, don't sweat it.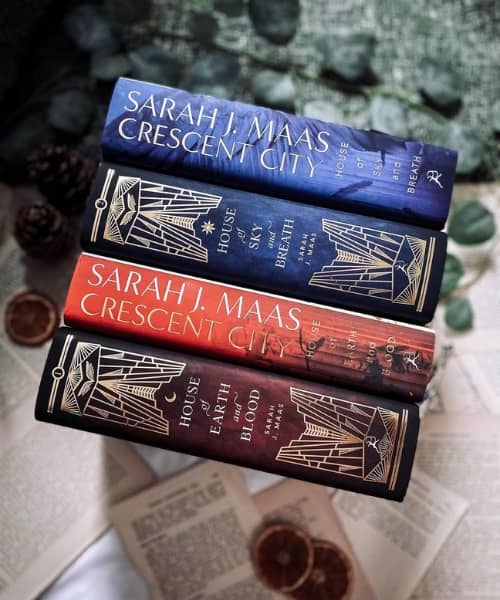 The Sarah J Maas Crescent City Series is a fusion of human and fantasy creatures and all their unnatural struggles that has nothing to do with our everyday life.
That's the pick – nothing to do with everyday life. That is – it is a perfect escape from everyday life to dive into something fun and interesting and hits your emotions like a rollercoaster.
With all that being said, let me introduce you to the three books of the Crescent City series that stole everybody's heart and soul –
House of Earth and Blood.
House of Sky and Breath.
House of Flame and Shadow (Yet to be published).
I have a lot to talk about, the Earth and Blood one because clearly, this one was the one that kept me going. Honestly, 'House of Earth and Blood' was my first Sarah J. Maas book.
I could sense potential in her and embed the courage to try all her new and old series. Nevertheless, the whole series got me hooked, and I cannot wait for the third book from the Crescent City trilogy because the last one ended on a cliffhanger, classic Sarah J. Maas.
1. House of Earth and Blood: Summarized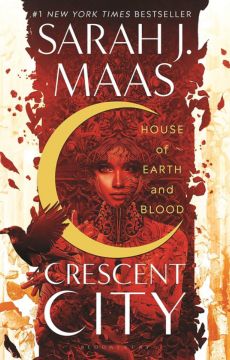 Before you dive into the story, remember that this might feel like a masculine version of Twilight mixed with Percy Jackson minus the plots.
Now, this is where you get introduced to the book's main protagonist, Bryce Quinlan. You might feel like she's like every other girl (which she is), but soon, she will surprise you (and herself) with her powers and what she can do.
The story starts with the attempt to make Bryce look like a NYC party girl, someone you won't even give a lift to because she is someone to drag you down if she goes down.
Before all that, remember that this is a fantasy book, so we are not necessarily on Earth.
Welcome to Midgard, a planet to find your human, half-human, and not-human-at-all fellas.
Let's introduce you to Danika, Bryce's best friend, who is also the most powerful head of the wolf packs and soon to be the prime after her mother retires (or whatever they say in wolf language).
Now, Danika is full of surprises. The story starts by introducing Bryce as a party girl. She is also the fae-princess and sister to Ruhn, making her daughter of the autumn king, and later focuses on Danika and her friendship.
All of these start from one big event – Bryce goes to a party and comes home to a devastating scene where Danika and her wolf friends are shredded to pieces by some external power.
This startles everyone to the core, especially Bryce, who just lost her best friend and was assigned to the project of finding the culprit.
Basically – the town has a demon, more powerful than the wolf pack herself, and that's life-threatening to everyone.
Pausing the story there, Bryce also works with Jessica Roga and is assigned to find Luna's horn as part of her mission, and guess what?
Her brother, Ruhn, gets assigned the same assignment by their father, who hates Bryce. In the meantime, Bryce did some killing and saving as minor plots, and some of them will be relevant later.
People were worrying about Bryce's safety, so we had the entry of our potential love interest – Hunt Athalar. He is a fallen angel and works under Micah under certain conditions.
Hunt and Bryce did not like each other initially, but we are reading Sarah J. Maas. They will be a couple, duh.
Danika had a lot of secrets; I mean it when I say a lot. To the point where her own best friend is slowly not believing her world anymore. The pieces of evidence and her past doings were not looking good for her image either, especially when it got involved with drugs. Not any particular drug – the Synth kind.
Synth is a drug that can help you reach your fullest potential power. Surprisingly enough, Hunt had something to do with it. Still, I won't tell you what because that's not important for the plot, and I want you to read the most fascinating book you have ever read.
But all the allegations against Danika being a drug addict and abusing her powers were gone after a few plots.
The plots were great, and there were too many minor details to mention in a summarized version. It turns out (spoiler) that Danika stole the horn just like everybody suspected, powdered it, and tattooed it into Bryce's skin. She wrote 'through love, all is possible", yep.
That means the horn they were looking for is actually gone, crushed to powder, and possibly in someone's skin. End of the horn's story.
They also solved Danika's case, and it turns out she's not a bad leader, let alone a bad person. All the pieces of evidence were layered, and she came out clean.
She had an overdose of drug usage (she did not fault this) and killed herself and everyone due to reaching her highest potential.
But the problem was Micah opened all the gates that separated demons and non-demons; the bad news is that demons are here. That calls for a civil war.
On the other hand, when Bryce went to see the oracle, the oracle had some cryptic text to say. Something so bright that she couldn't see what was up there.
That calls for realizing the infamous question through various plots and twisted stories – what brightens an oracle?
A starlight. Bryce has star power, the highest of all kinds.
Bryce had to do both groundbreaking performances, including deciding whether she ever wanted an afterlife or just giving it up for Danika. I know …pretty intense.
However, after some pretty hotshot scenes where Bryce saves everyone from getting devoured by demons, she is now the city's apple of the eye. Mainly because when she was busy saving the city, the whole thing was broadcast live, and everyone.
I mean, everyone was doing all these stunts. Her dad was super proud, though, like a once-in-a-blue-moon event.
With all that going on, Bryce and Hunt are now the start of the show, but that doesn't stop Asteri from feeling threatened by the external power.
After all those chaotic sessions, Bryce is told to not have a public life and to stay away from using her powers if she wants a normal life. Bryce seems fine with it, and that was a happy ending by Sarah J. Maas.
Until it wasn't.
In the last scene, Jesiba and Aidas talk about an event they need clarification on. That was a cliffhanger that is to be solved in the next book. Classic Sarah J. Maas. In fact, I did a detailed character study and discussed the plot summary of the book. Feel free to read it if you fancy.
---
I kinda like how the crescent city characters were portrayed
Yep, that's still me writing. Yes, I finally like someone's character portrayal. How do you hate a character so much that the actor who played it gives you the ick?
Almost like you don't like them either? That's when you know that they nailed the performance. Sarah J. Maas did the same thing; my feelings for each character were strong, both positively and negatively.
From what I have reviewed further, I didn't like Bryce until the end of the story, where all her traits made much more sense.
Bryce had this party-going life (which is not a bad thing; liking parties is cool). Still, she was involved in heavy partying, getting in her way of life, career, and even healthy relationships.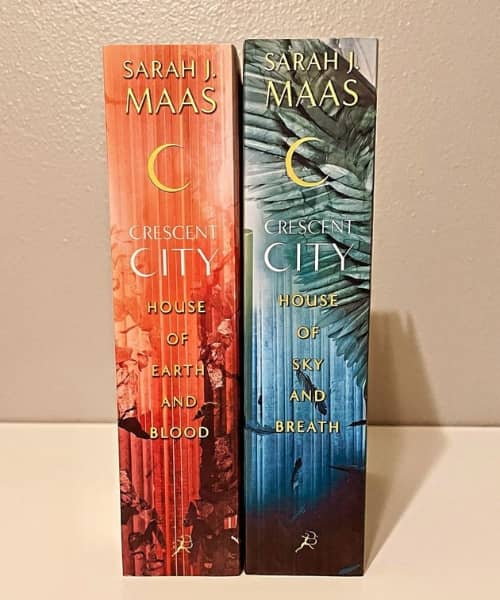 But that character slowly transitions into a responsible, worn-out, hopeful, and mature character by the end of the story. I was surprised by the character development, but as you read the story and dialogues, you can feel like the character is changing.
Well, it is common after traumatic events. Still, Sarah J. Maas did a decent job balancing the trauma effects, healing, and falling in love. Overall, she deserved to be the protagonist.
Onto Danika, my personal favorite. Now, Danika was present only in a couple of scenes at the start of the book, but oh my god, the impact she had was unbelievable.
It's amazing how a dead person can have so many interesting things going on, so much more than the protagonist herself. The more the story unfolds, the more the character unravels the most interesting facts about herself.
I loved Danika's energy from the beginning because she's such a girl boss, which later turned into a girl bossing too hard to the point of stealing something and also doing drugs.
Miss Writer tried to make me hate Danika in the middle of the story, but that didn't help. I can confidently say I was in love with Danika by the end of the book.
Hunt is a character you can predict just by looking at the fanart (or the fanarts was way too accurate). He is handsome, strong, calm, and, most importantly, a former rebel and a fallen angel. Hunt is a bland character from the beginning.
By bland, I mean predictable. He's been tough and rough, and you know how the character goes with them, from acting rough to an emotional journey to falling in love, exploring trauma, and back to being rough. Yes, that is what he is all about.
Other characters like Ruhn, Oracle, Tharion, etc., were also relevant to the story. I liked Ruhn better for his edgy yet soft personality. Let's see what he can give in the books. He sounds like a promising resource for Asteri to exploit.
Bryce had a rich family history, to begin with, and that gave each of the characters more depth to their character. Overall, you read the book, you tell me.
What are My Overall Thoughts and Feelings Towards the First Book?
This book introduced me to Sarah J. Maas's writings and successfully made me stay for the other eighteen ones – this is the biggest compliment I can come off at the top of my head.
After I finished reading this one … I felt kind of incomplete. What is the purpose of my life now?
That's when you know the story was so engaging that it made you forget about other crises in your life at that moment. The story is engaging and fluid, and you can read through the plots easily. The words are good, too.
In a nutshell – this could be your first fantasy book if you have not read one before. This is a good start if you ask me.
2. House of Sky and Breath: Summarized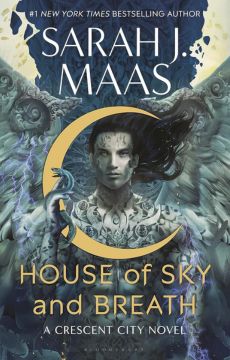 Okay, I'm gonna have a hard time summarizing this. This book has been messy.
Now, what did I tell you about Bryce and Hunt? The last time I checked, Bryce was the crescent city's hero. He promised Asteri that she would not engage in magic or supernatural practices.
Until a new problem arises, and she gets involved with the issue accompanied by her so-called lover, Hunt, this time.
The story progresses by a boring storyline where we are introduced to this new character called Sophie, who tries to rescue her brother with the help of Agent Silverbow but ends up rescuing tons of other children, including her brother.
If you thought you would get more about Sophie, that's not true. Spoiler: Sophie dies in that scene. Literally, she just dies. That's it off her journey.
Her brother is still not in his safe hands, so she tries to manipulate the whole situation, spreading that her brother is as special as she is (she is a thunderbird) and could be used in magical worlds.
The whole story revolves around Bryce and her team trying to rescue Sophie's brother as a part of their assignment, taking all the risks; they can only find out that Sophie lied about the whole time and that her brother was just a normal human being.
The kid was later adopted by Bryce's parents. But c'mon, we can forgive this one. It was just to protect her sibling. This gets a pass.
Do you know what does not deserve getting a pass? Danika. And her never-ending secrets. Even in this book, Bryce finds out a shit ton of dirt on Danika, almost like Danika wanted Bryce to take the responsibility.
If Miss Writer wanted us to hate this character, she was successful this time. Danica had just proved herself a trustworthy best friend who does things behind their friend's back only to have her deal with her bombshells and make her life a living hell, too.
You will see all the characters and their references from plot to plot, and you will see the character development of some of them that made them likeable in this book.
You will find out that some of the characters were leading A double life, and they had several identities in the book, so those were some of the turning points of the book. For example (spoilers), Cormac was Agent Silverbow. Yep, unbelievable, I know.
The book revolves around Bryce breaking all the rules she can break in a second to find Sophie's brother and getting into trouble in the process.
Sophie knew something important that Bryce had to find out, which explains her behavior throughout the book. But this was all a trap set by the power holders, Asteri themselves.
The last few chapters are the game-changers, and I enjoyed every bit. I'm still stuck at the line 'Hello Bryce Quinlan, my name is Rhysand' after Bryce found herself confused.
This left the book on a cliffhanger again, but I'm hoping the next one will be a blast, judging by the ending. It left me wanting for more.
In fact, I dove deeper into what I wanted from this book in my House of Sky and Breath review. Give it a read before you decide to buy the actual book. Oh, beware of spoilers. Don't say I didn't warn you!
---
About the Never-Ending Characters …
The only thing I hated about this book was the information-stuffed writing and the forced characters in every other scene.
First, let's talk about the relationship between Bryce and Hunt. Don't get me wrong here. I have seen the fanarts before, but I wish the chemistry was as juicy as they tried to portray in those arts.
Personally, their relationship seemed a little bit more awkward than before, but you'll still get the spice you came here for, so it's really fine.
From the first book, Ruhn has the biggest character development here. He was more compassionate and more involved in critical storylines than before, so if you wanted a sign to read this book or not, this is your sign to grab one as soon as possible.
Surprisingly, we have a gay couple in the storyline, which I think was a great move by the writer to fit in in modern society.
The relationship seemed a bit off to me because I don't think she has firsthand experience or any idea how these things work, but – at least she tried, so let's give her that.
Off to the most sought-after character of all time – Danika.
I liked her character in the first book because she was getting more and more interesting to have the storyline going. Still, at this point, I'm just tired of her keeping her entire life in the dark and lying to her best friend about important stuff.
She surely gets a lot of things done for a dead person. Finally, I talk about the character I want to see the most in the book. Unfortunately, I didn't, my beloved Sophie.
I genuinely wished part had a tremendous character development or a developing storyline because she was such a promising character and was only there to help her brother escape abuse. Even though she was dead, she initiated the same plan Danika did, except that she didn't cause problems and wanted to save everyone. She was successful in doing so while being dead.
Something could happen between Sophie and Agent Silverbow. Still, Sarah J. Maas had her reasons to cut her short for whatever reasons.
And there were tons and tons of side characters that needed attention … but again, there are tons and tons of them, so this goes back to my previous statement of info dumping and welcoming way too many characters than necessary.
My Overall Thoughts and Feelings
This was a downgrade compared to her first book. You really need patience and faith in Sarah J Maas Crescent City sequels to entertain you no matter what.
Try this one if you are okay with infor dumping and learning about new characters occasionally. It's interesting, and there are many things going on in and outside the city.
3. House of Flame and Shadow: Predictions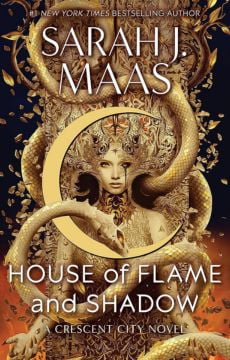 The last one ended on an interesting cliffhanger. If you ask me, this world will unravel the much darker and more interesting secrets of Asteri and other powerholders. We will see our third and biggest civil war of all time. We're excited and still waiting for the book.
Let's pray it's not Danika again; her secrets are starting a civil war. As you read this post we have another article on, "The House of Flame and Shadows Spoilers; Our Predictions and Speculations" in the works. Don't worry we don't have a telepathic connection with SJM. Rather, we're merely predicting what the future book might hold based on the current events.
---
Final Thoughts
I have mixed feelings if I were to talk about the Crescent City trilogy as a whole, but this is where I'd like to form an opinion – the series is engaging and addictive. The 'what am I gonna do after this?' type.
Of all my fantasy and fiction reads Sarah J Maas Crescent City has been a mixture of oldies. It did feel like if Percy Jackson and Twilight had a child, this would be it. The banter was this one's original. None of the above two had this.
Overall, it's a good read. I sincerely hope the third book will not affect my opinion, especially with Danika's unending secrets. I really hope she's actually unproblematically dead right now.
All jokes aside, Sarah J Maas Crescent City Series could be a great first read for teenagers or young adults. This could welcome them to the fantasy world and keep them hanging around for more.
If I read it 3 to 4 years ago, when I used to live and breathe Percy Jackson, this could've easily been in my top 3. At this time of my life, I'd rather read something calmer and more realistic.
So, I suggest you give it a try.
Yes, and yes. If it's your first time, then you must.
Warning: You might rarely leave your bed and forget about every other person's existence. Read at your own risk.