It's fine. You don't have to know who Inspector Gamache is in the era of Detective Conan. Let me introduce you to one of my favorite characters.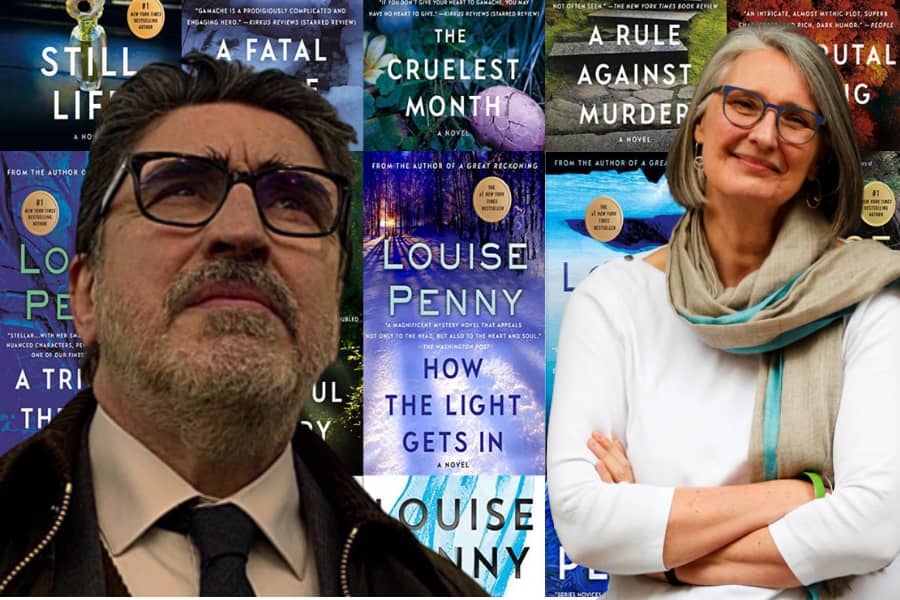 Yes, this article will be a guide to Louise Penny Books in Order. Newbies will find it easy to start reading her work. There, you're all caught up.
I have had enough of fantasy novels; it's almost winter now, and my soul is yearning for some mind-twisting thrills that might have been inspired by true murder cases.
I have been searching for authors similar to Dan Brown (if you are not familiar with his work and really love thrillers or mysteries, go check his books out). Then, I finally got introduced to Louise Penny – the author of The Inspector Gamache series.
As you might have guessed, I'm one of those who watches true crime documentaries as her source of entertainment whenever she's bored.
And no, Louise Penny has her own style of writing – something so devilishly calm to chill your bones and hug you with the warm sunlight when the mystery is solved.
Some scenes are so disturbing and out of place that all I think is – How did you come up with this crazy good idea, and why does it seem like a personal experience? What do you mean a mother could just rip out her unborn fetus because she was too afraid to get an abortion?
In the same way – Louise Penny has intrigued me to my very core. I studied her and tried to find some dirt on her if she used those as her inspirations for the series.
Meet Louise Penny as We Discuss Her Biography
I haven't added the dramatic bit 'the author of the Inspector Gamache' series because, you know, you should read the introduction.
I went in with zero expectation for the sole reason to not be disappointed if I found out this vanilla storyline – Oh, I wanted to be a writer since I was a fetus, and here I am.
Come on, God, do your job. Make the life story interesting. Take wrong decisions and die in the arms of poetry. Or maybe a popularly loved book series.
Louise Penny is Canadian. One thing about Canada and Japan is – no one can beat them in manners and kindness. I knew right then and there that this was where I had to bury my expectations of a badass storyline in her life.
She is best known for her series, where Chief Inspector Armand Gamache of the Sûreté du Québec entertained us with his solving skills.
While you might have already guessed, she always wanted to be a writer and grew up reading books similar to the genre that she now thrives in. But no, it's not that bland after all.
Turns out, she graduated from a polytechnic institute, now named Toronto Metropolitan University, and got her Bachelor of Applied Arts degree in Radio and Television Arts. Then, she joined CBC (Canadian Broadcasting Corporation) and worked there for 18 years straight.
But is that all?
No, around that time, she developed an alcohol problem, so much so that it affected her mental health to the point of attempting to take her own life. Thankfully, she accepted help and is now fully recovered, delivering amazing mystery thrillers that the world has ever seen.
Which Louise Penny Book Should You Read First out of 18?
Yep, eighteen books. It only falls short once you get into the series.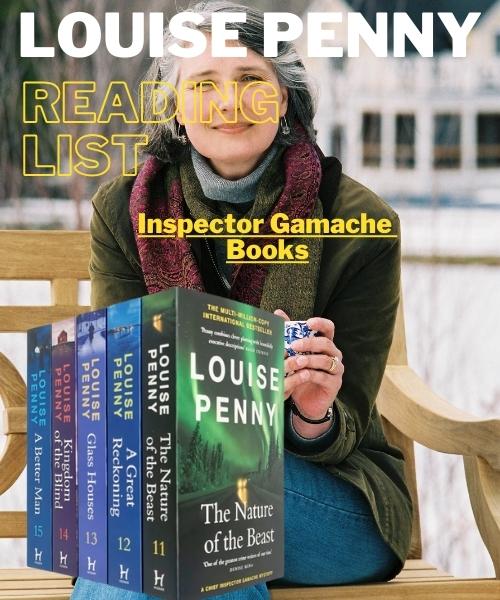 Before that, know the proper chronology. I preferred Louise Penny Books in Order of Publication –
Still Life (2005)
Dead Cold / A Fatal Grace (2006)
The Cruelest Month (2007)
A Rule Against Murder / The Murder Stone (2008)
The Brutal Telling (2009)
Bury Your Dead (2010)
A Trick of the Light (2011)
The Beautiful Mystery (2012)
How the Light Gets In (2013)
The Long Way Home (2014)
The Nature of the Beast (2015)
A Great Reckoning (2016)
Glass Houses (2017)
Kingdom of the Blind (2018)
A Better Man (2019)
All the Devils Are Here (2020)
The Madness of Crowds (2021)
A World of Curiosities (2022)
Here's what you need to know about Chief Inspector Gamache novel series
And here we go.
First on My Louise Penny Books' List: Still Life
First of all, the titles are not like the other novel series with the name of the protagonist. In fact, when I first picked up the series, I was confused if I was reading the right one, but that's when Inspector Gamache entered the scene.
Jane, a sweetheart in her late 70s, a former teacher, and a painter loved by the whole city, is suddenly found dead in her city. That introduces us to our murder scene where, scenes later, we get introduced to Inspector Gamache.
I did not expect this, but I find Inspector Gamache similar to Sherlock Holmes, except he is not as weirdly unpredictable as Holmes. Still, we're only in the first book. Who knows?
I'd say he's kinder and more gentlemanly, much as opposed to Holmes, who could be a human version of L from Death Note Manga.
Whatever he is, the write-up is on top to make it seem like we are solving alongside and not merely seeing him solving cases. The suspicion and interrogation didn't go smoothly, and something is constantly dragging you behind – a feeling that we might be missing out on clues.
Jane was a person of art and was very protective of her art and her house.
As I said in the introduction, I loved Dan Brown's work growing up, and in his famous book 'The Da Vinci Code'– he solved the mystery by observing art.
This is what creative liberties look for. From a painter's perspective – we usually hide our life's essence and stories in our paintings. You just need the right eyes to get it.
---
Book No. 2 You Should Read: A Fatal Grace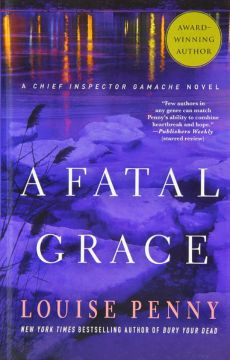 This one was a fresh read and had nothing similar to the first move – except the quality, of course. Unlike Jane in the first book, this one's victim – CC de Poitiers, is someone despised by everyone in the town of Quebec, including her own family.
Now, this is something rare to see since writers try to portray the big one's angel-like to maintain emotional sympathy throughout the story. This unraveled the history of envy, power dynamics, betrayal, and forgiveness of each character, and I think – that's what made this book stand out.
I have read true crime documentaries, and I'm a sucker for mystery as a genre, but this book got the most creative way to kill characters.
Electrocuted in the middle of a frozen lake? That's new.
It doesn't end there – I loved how, at one point, her daughter was the suspect of killing her, just like the way she killed her mother. I don't feel bad, even if that's true; CC was a total bully to her child.
The whole solving process was something so lively that I wouldn't mind skipping meals just because I wouldn't want to keep this book down.
I'm a huge fan of Inspector Gamache's way of investigating. It's like he always focuses more on psychology and getting to know the deepest part of each and everyone on a personal level. I mean, that did help him redeem his past mistakes in his personal life.
I really appreciate him coming back to the same place that almost took his life a few years back.
Book 3: The Cruelest Month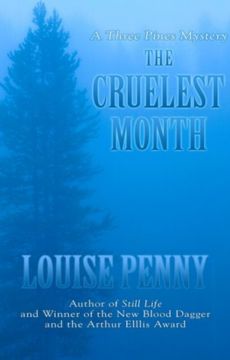 Oh, so I'm noticing this small village is kinda of a staple in Inspector Gamache Books now? We're coming back to this one every time there's a case. And the case is always there. Everything in the village of Three Pines in Quebec.
Okay, we already talked about the personal problems of Inspector Gamache. Still, this one didn't tell but showed us how good of a leader he is, in addition to being the best husband a wife can get.
All this time, Penny has been writing amazing mysteries that only concern a convincing way to kill or, should I say, a mortal way of dying. But this one has paranormal activities involved. Well, at least when you did it at first.
I think this was a new way to approach murder mysteries, surpassing the exorcism-turned-murder trope, which is quite boring.
I'm glad we get to see a bit of CC de Poitiers type of treatment, as not everybody liked Madeleine Favreau either. They had every reason to unalive her. Sadly.
As you can already guess, Inspector Gamache is back to solve this case with his team. Do you remember the Arnot case? The '90s way of getting canceled?
Well, not exactly '90s since this is a book of the 20s.
Inspector Arnot was exposed by Gamache for his corruption, and his allies wouldn't let it slide. So here goes the plot– Find out how killed Madeleine Favreau and save yourself from the wrath of doing good.
Book 4: A Rule Against Murder / The Murder Stone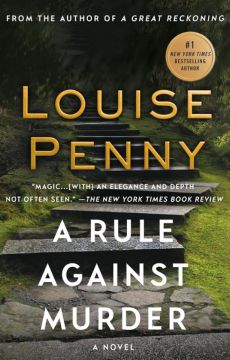 This one's particularly funny to me because, "Who works on vacations?
As I read somewhere, you can take a day off from your work, but not when you are working in the field of discipline. Murder never has a day off, just like it happened with Inspector Gamache in this book.
We are now introduced to new characters. This murder takes place in the scorching heat of summer. The story revolves around a matriarch family throwing a gathering in the loving memory of her first husband, the father to all of her kids – Charles Morrow, and husband to Irene Morrow.
While this is supposed to be a lovely family gathering, this turns out to be another exhausting yet chilling task for Inspector Gamache to attend the event as a fellow guest. Still, he ends up launching his work even there.
I found this one to be the perfect one if you don't like the usual plot – murder-action-solved-hero. This is very unlikely and experimental to write something that might not sit well with the usual reader. I mean, who would like to read about someone working on their vacation?
Give that man a break, for Heaven's sake. Or not, maybe we like our entertainment.
Just because Inspector Gamache was close to two of the siblings in this case, he had to pull up all his resources to find out who impaled one of their family members into the earth by the statue of Charles Morrow. That sounds … gross to even read.
And that's the best part of this Louise Penny Book – watching Inspector Gamache solve this most suddenly is something I'm looking forward to even in the next books.
Book 5: The Brutal Telling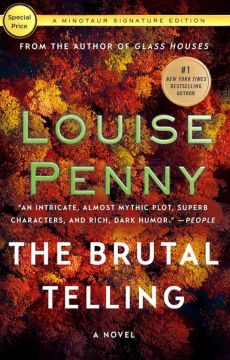 We are now seeing a murder related to artists and perhaps … antique artifacts.
This one's a bit different among my Louise Penny Books in Order; we get so many false leads, and you will never know what's going on except probably halfway through the book.
That's what makes the book so interesting. You are getting so many turns and possible storylines that will get disrupted in the future.
But hey, the suspense is so worth it. One thing that I am guilty of is that Olivier Brulé still seems innocent to me. There's a reason Inspector Gamache felt the same. I really hope we are getting more of this case shortly. Seems like Three Pines can't take a break.
I loved how art and very small details like the spider web mimicking 'WOE' or the legend of the Mountain King or the amazing wood carvings are used to finally (not yet) lead to the killer.
From what they have noticed, the body has been moved twice after the murder, and that is still raising a lot of questions.
I think this one has been the most engaging, cliffhanger-y amongst the other four.
Book 6 on Louise Penny Mystery Books' Catalogue: Bury Your Dead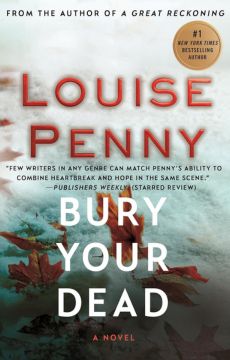 At this point, are we reading a mystery murder or a paranormal one? You can't really tell at first glance, and that's what I loved about this one – coming from someone who is apparently a fan of the paranormal or horror genre.
Oh, we are now back again in winter.
And the Lord has answered our prayers. We are getting more of Oliver's tales in this book.
As we have predicted, nothing was going right in the previous case, and the guilt of trapping the wrong person and eventually punishing him for murder that he was not guilty of was getting into the head of our favorite Inspector. He took a break from his work. Well, not really.
He was there to heal initially, but that eventually dragged him into another crime scene, where he found the body of Augustin Renaud, the person who had dedicated his whole life to finding Québec's hero's burial place.
Now the question arises – why was every person that was associated with history or artifacts related to the history of Three Pines or Quebec getting brutally murdered?
As every reader and Inspector Gamache thought, this could be because Renaud was very close to finding an answer to his lifelong task. Someone out there was so against this idea to take the step of killing him and bury the secret with him forever.
The guilt of Oliver was always there, and the added pressure from the local residents only made it worse. We are now solving not one but two cases in this book. In my opinion, all these cases felt a bit personal and emotional rather than solving logically.
Book 7: A Trick of the Light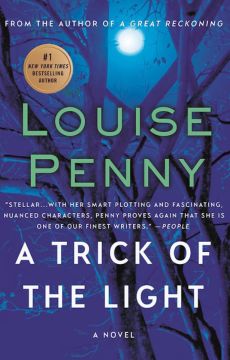 Good news for you: The previous story might have just ended there, and you don't need to read other books to start this one.
Bad news for you: We are done with Oliver's tale.
We are again in Three Pines (but that doesn't guarantee the same vibe anymore), and we are again dealing with a murder that concerns artifacts.
We are now reading about the discovered body of Lilian Dyson, a not-so-beloved painter at Three Pines. This person was evidently someone who didn't fear what she spoke of, and that sure has brought a lot of attention, so much so that it cost her life at the end of the day.
I'll be honest: they again applied their same old tried-and-true method to solve this case, but I'm glad Louise Penny thought this was getting a bit boring. This method fails in this book and forces them to think outside the box for one of the first times in this series.
I love how Penny gave it time to unravel the beauty of art and slowly made room for us to participate in this case.
I have always been a fan of how writers use art to solve mysteries, murder or not. This particular one depicts the exact story-building that I would suggest to someone who is just getting introduced to Penny's works.
Even though we are returning to the same place again and again, Ms. Penny finds ways to make it brand new and filled with more secrets. I'm guessing we're just not getting enough of the residents of Three Pines, as the record goes.
Book 8: The Beautiful Mystery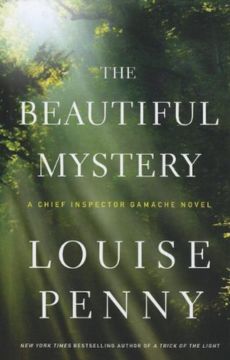 Initially, my amateur brain convinced me that we are getting maybe scenes of romance in this book.
That was a maybe, and I know nothing in a murder mystery book is innocent. Without any purpose, maybe I needed one or two heartfelt scenes so that I could read what true love felt like against the massacre going on.
The hottest news is – Jean-Guy Beauvoir is in love with the daughter of Armand Gamache, and the feeling and activities are completely mutual. The twist is that we still don't know what our pappa feels about this certain relationship.
Naturally, I thought this was going to dive into the Inspector's personal life, and maybe we would be solving cases inside the home and might not have to visit Three Pines again.
Well, the wishes came half true. We are not visiting the same old village. Still, this time, we have a monastery where the renowned choir director – Frère Mathieu, was found dead (allegedly killed) in the abbey's garden.
All of the monks have this vow of silence going on for ages and do not have any contact with the outside world, nor do any outsiders contact them for anything.
The question is – Who could've breached such a religious contract and let any outsider enter the monastery, or is it someone inside the monastery?
The whole journey was very different from what we are used to reading since the launch of this series, and it feels good to breathe fresh air and new storylines with no attachments from the previous books.
But I wish I could learn more about the relationship between Beauvoir and Gamache's daughter. That would've made this one more teenage-friendly and could get a diverse audience.
Book 9: How the Light Gets In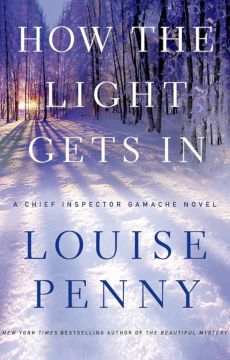 I had to ask this question when setting up number nine on my list of Louise Penny Boks in Order. The answer? There's a crack in everything. That's how the light gets in.
If you were bored with the last one, I might have some bad news. Because this one picks up where the previous one left off.
The ninth one is intertwined with the ending of The Beautiful Mystery, but you can still read this one if, as far as I can sense, there is no case involvement from the previous book. This one's a bit denser, but the emotional damage from the last one is what really nurtures the plot.
I think the murder of this plot clashes with the political view of the city, and Penny knows it, for which she took the opportunity to nail this character while voicing the violence that actually happens around us.
We get to see the death of Constance Pineault as her body was found in her home. Sounds boring, right? Like, what's so fiction about it?
Penny never disappoints. Constance Pineault was a close friend to Ouellet quintuplets, so as we all can predict, this is not just a murder of a random old woman but could be very closely related to the secrets of the Canadian government or the future of the government.
This also means the information that the victim holds could change the narrative of the government that the high profiles wouldn't want to expose.
Although I have seen these plots in different books, Penny has her way of writing and unraveling secrets. I enjoyed most of it.
I loved the slowed, intensified version of solving the case. The emotional journey was a wreck, too. I can't wait to see what the next one holds for the town of Three Pines.
Book 10: The Long Way Home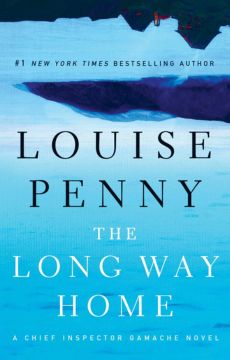 We might be taking a break from Three Pines because our favorite Inspector Gamache is retiring. He can finally have his long-deserved break to heal his wounds from the inhuman cases.
Does a character in Louise Penny books really get a break?
Well, this book wouldn't exist if that really was the case.
This book is about an unexpected mission that Inspector Armand Gamache couldn't refuse despite his retirement and the emotional toll that comes with it.
While he was enjoying his break with his wife, a close friend needed help finding her dearest husband, who had been missing since he left his home for a spiritual journey.
Inspector Gamache loved his job either way, so this one was a golden opportunity to be back and save another person one last time (for now).
Penny introduces new characters in this book that make significant changes in the Inspector's character, or maybe we just discover the untold side of the Inspector since things seem a bit too personal in this book.
Although Clara's (the close friend's) husband went on a spiritual journey, Gamache experienced its impact – it was a spiritual journey for both of them.
This book shows the beautifully imperfect ways to deal with emotions and to find yourself while on the journey of finding the lost. You will learn the plots and answer the 'Did he find him?' question when you read this one, but Gamache made sure to find his lost self.
Book 11: The Nature of the Beast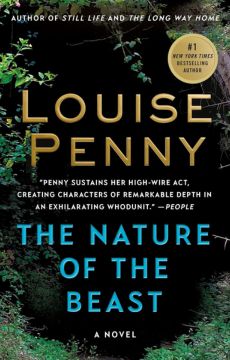 As I said, Penny cannot get enough of challenging political myths with no filter at all. This, in 2023, feels like a breath of fresh air.
While I was going through this one, it reminded me so much of the first book of this series – Still Life. For unavoidable reasons.
The plot, the murder, the discovery, and the truth to be unfolded are very similar to Jane in the first book, except this one had a deep study of weapons revealing political and debated secrets.
I am surprised by the discovery of weapons instead of a human body this time. It seems like we are getting a not-so-regular write-up in this book.
I think the weapon has to do something with lightning, but then I'm a Rick Riordan fan. What can I say? This could take a whole new turn involving Greek or Roman methodology, just like Dan Brown did with his works, but I guess Agatha Christie wouldn't like it so much.
Hermit's body found after the weapon's discovery after a series of events is sketchy, too. Still, we can only sit and enjoy the journey while Inspector Armand Gamache and his dearest team try to solve this one. It doesn't matter if he has retired. Murder never goes on a vacation.
Suppose you are someone who loves to read more about the mystery that involves government, politics, weapons, secret agents, and obviously other sketchy things. In that case, you should definitely give this one a try.
Just know that Inspector Gamache is an excellent problem-solver, or maybe don't bother; he will prove himself to you in this one.
Book 12: A Great Reckoning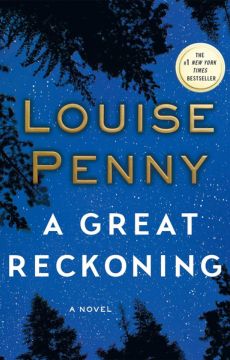 If you are looking for a cozy and not-head-twisting book in this series, this is where you reach your destination. I strongly believe Miss Penny published this one just because she wanted to fill up the gaps between other books.
I have read the previous ones to an extent to hurt my mortal brain, so this being a little light on the head is a bonus for me.
We now have Inspector Armand Gamache as the head of the Sûreté Academy, and we all know what that means – clean out the mysteries and dig deeper until it's solved.
That's what happened when he stumbled upon an old case of murder that had never been solved. The starting was a bit similar to the old trick, though – someone finds something, and this time, someone found an old map that led to this unsolved murder.
Inspector Gamache and his team are now ready to solve this murder as soon as possible, and we are here to witness yet another history in the Gamache world.
But that doesn't mean we don't get to see his personal beef in this one. At this point, I'm convinced his personal issues will always follow him anywhere they go, and it's funny how it's something new every time.
I think Inspector Gamache always had this hatred toward work politics. He got into trouble for the same issue in the past books, and this one is no exception.
Although I would have criticized the lack of thrill compared to her other books, my brain needed some of it after those long books. I would definitely recommend it if you are following the order, but it might not just be a great pick as a starter.
Book 13: Glass Houses
When you read the book, what comes to your mind? A murder in a house of glass? Or, a murder in a glass house metaphorically? Like, before everyone's eyes.
None of the above. This is a drug case. A deadly one.
The opening felt great to me. I don't think she uses this often now, but she could. Feels like we are present in the moment. Though the trial's topic is unclear, I am pretty sure this one's gonna be spooky.
And again, I was right.
There is some mystery man or figure with black robes and masks that the people of the village see from time to time, and this is now creeping the hell out of them.
When the team was there to investigate this matter, it turned out that this was not only spooky but also involved in extremely dangerous dealing with drugs.
While Inspector Gamache has other problems to solve, he has to take care of his personal health as well, which actually has a turn in this one.
Book 14: Kingdom of the Blind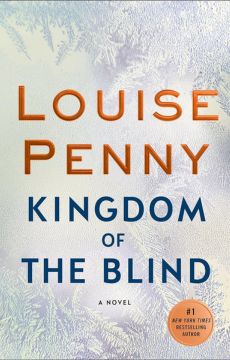 The last book was so loved by the readers that Penny decided to publish another book involving a similar storyline. But no, don't mistake the concept. It is nothing like the previous one.
I mean, this woman has been writing about the same village and the same Inspector while keeping everything relevant successfully. She needs no introduction.
The story is about a woman named Bertha Baumgartner who bequeaths a large sum of money to three people, and one of them is Inspector Armand Gamache himself. Mind you, it is a lot of money, and Gamache did not even know who this person was.
I think this was a great test of the greed and ethical characteristics of Inspector Gamache because, girl, if I were him, I'd better pack my bags and never look back.
But Gamache sensed the trouble when he found the case of opioids somehow linked to this money or her money. For most of the part, the circumstances around this will are mysterious, and we know something isn't just right.
As the story progresses, Gamache's ethical abilities are tested again and again, and he gets to solve the connection between drugs and his mysteriously received wealth. Does he do it well again? Well, this is something you gotta find out yourself.
Book 15: A Better Man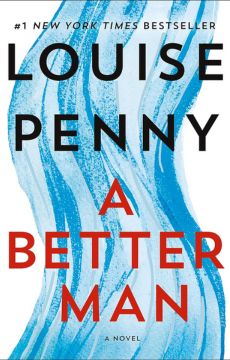 Intriguing headline, isn't it?
Inspector Armand Gamache is back in the homicide department as the head alongside his beloved son-in-law. It's his first, so he must be happy and celebrating, right?
No. The village has some bad news. And it's not something that humans can control if they wish. It's because the whole is flooded, risking people's lives. Amidst all these, a helpless father approached Gamache in his department – Please help my daughter.
The father's daughter has been missing, and they tried their best to contact her or even to hear a word from her with no result.
Inspector Gamache had all the reasons to say no to a proposal under the natural flood causes. Still, all that kept roaming around his dead was this question: how would I feel?
What would you do if your child's killer walked free?
That answered his decision. He felt no stone unturned to finally get back on track and unite the daughter with her father. Till then, he gets distracted by the family clashes and secrets, which might've pushed the daughter to take this step.
But that doesn't justify it. I loved how Penny kept the suspense till the last page.
Book 16: All the Devils Are Here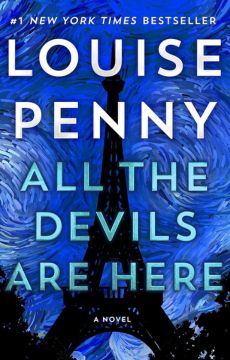 We are going to solve cases in the same village for 16 inspector Gamache Books. I'm sure the devil knows its homeland now.
As I have always wondered, Penny always solves cases both inside and outside of his home, proving that this guy is really borne to do his job.
This storyline is something out of the box for the Gamache series. The story progresses when Gamache and his family have a private dinner with his Godfather – the billionaire Stephen Horowitz.
On his way back home, after dinner, he met an unexpected hit-and-run accident. Gamache rushes to the scene and takes every responsibility to find out what is actually happening.
A strange kep was found in his possession that had the answer to every elite society question that Gamache was gonna find out soon. He is a billionaire; he is going to have dirt on people, and that's how people get rich.
But this one was particularly fun to read, one of the finest pieces of Penny.
Book 17: The Madness of Crowds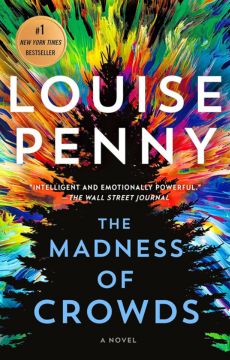 It is now winter in the town of Quebec around this time of the year. Three Pines is blessed with heavy snow, and they take every advantage of it through skiing and drinking hot chocolate to celebrate it every day in the winter.
Nothing different from the Gamache family until their plans get interrupted by a small request.
Gamache is asked to provide security to a Professor of Statistics who is visiting to give a lecture at a nearby university. But why would you need the head of homicide to protect just a university professor? Isn't that just a regular academic event?
Gamache had his doubts, and he started investigating this professor only to find out that Professor Abigail Robinson was coming to spread his disturbing and brainwashing agenda amongst the students.
You are a coward.
While Gamache thought this could be provocative to the youngster and appealed to cancel the lecture, he was turned down, saying he was an academic coward and was trying to force censorship.
As the lecture ended, you can see why the book was named 'The Madness of Crowds' – discussion turned into debates, debates into arguments, and arguments into fights.
That's how Gamache gets involved in his next case of brainwashing.
Book 18: A World of Curiosities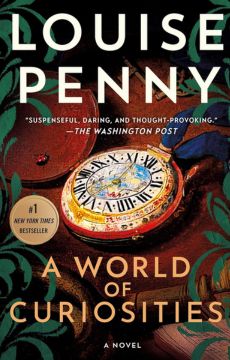 Ah, so we are finally at the 'alleged' end of this series?
I agree with the book title, certainly so when a brother and a sister from a case that Inspector Gamache worked on for several years returned to the town of Three Pines. So yes, we are going to have to read previous cases to read this book.
This sibling duo will take up a lot of emotional space of Inspector Gamache… up until a recent discovery of a very old secret room in the library.
All these open a new chapter in the new life of the residents of Three Pines that would get you hooked up so badly this will make all those readings worth it.
Oh, wait, a change of opinion – this might be a standalone. Although this does have the background mentioned here and there every now and then, you can still avoid (or maybe Google the part) the part and still get the context quite easily.
Like every other book in this series, the suspense was impeccable, and is it only me thinking that Penny is just getting better and better?
Also, I just watched the new series on this one on Amazon Prime, so if you want to visualize everything, the series is a great choice.
I hated how they only portrayed the dark side of the town in Three Pines book series, completely neglecting the fact that this can be a happy town, too, as described, but okay, we'll take it.
My Last Words
Do I recommend Inspector Gamache Books at all? Ask me if I could ever shut up about it.
This is not the right question. Otherwise, I'd not have "Painstakingly" put Luise Penny Books in Order for you. The right one should be – Are you mature enough to read all these?
I highly recommend this book to people above 18 since it has violence and an explanation of ruthless behavior.
But I know y'all are too cool for it, so if you have to, please be aware of the disturbing plots, and those have a tendency to occupy your head all the time. That's why they are called fiction, the most legendary – crime fiction.
Give it a go even if you are not a fan of the author or crime novels in general. This one can safely alter your opinions on them.