Okay, I finally picked up the book with a cult following – House of Sky and Breath.
If you are new to this, I would suggest you read the prequel because I, unfortunately, didn't (blame my impatient mind and heart), and I had to endure a fair share of the abstract tantrum that came with the confusing plots in the book.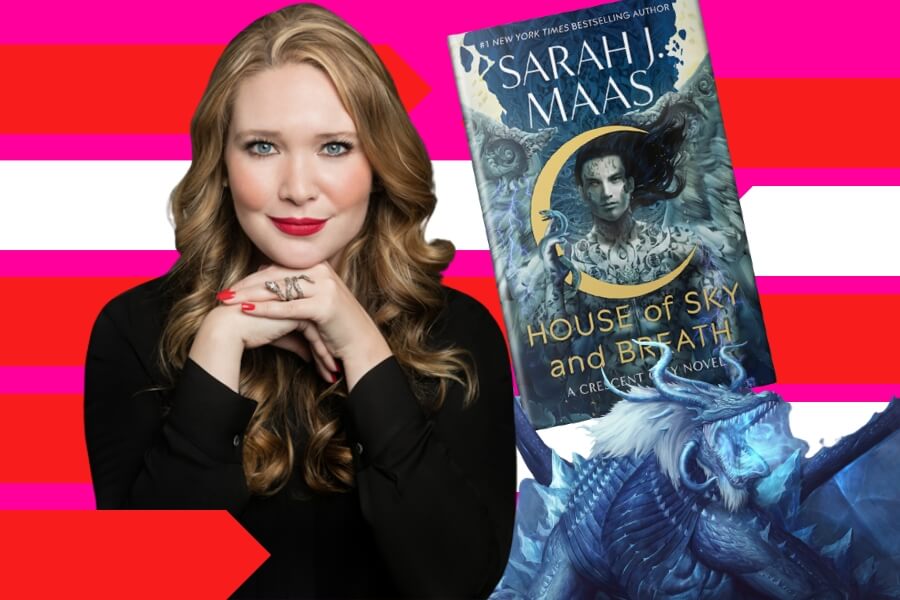 I was not surprised when I saw the incredible fanarts; this book had it coming.
Is it just me, or do y'all feel this book gives a masculine version of Twilight mixed with Percy Jackson minus the plots?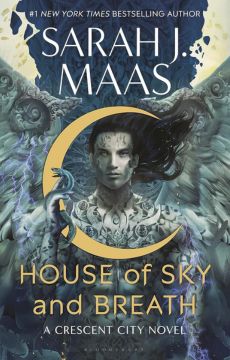 What I Think about the Book – An Overall Impression
To slide in before I get into detail – I found the whole storyline very bro-y. I have mentioned the masculine before, but there's just a lot of bros doing bro stuff for most of the part when we didn't even get the name of the daughter of the River Queen.
She just gets referred to as 'daughter of the River Queen' and that's just … sad.
From the prologue to the last chapter (which actually ruined the mood for me), the plots are messy. You might think Bryce is the main character of this book, but there are times when we, as readers, are not present with her in important events.
She just surprises us with facts that she does off-screen and vanishes. Also, you will see a lot of scenes exchanging 20 seconds of Bryce. Suddenly, the focus is on Hunt to Emilie to werewolves to Pippa, all in 20-30 second intervals. In short – I feel sorry if you have OCD.
Sarah J. Maas writes character-driven and did not disappoint once here. I was hooked on the prologue, and you could already tell that this part would be one of the important plots in the story.
Starting with the Sophie part, I was really interested to know what the plot holds for her, and it didn't disappoint when she was discovered as a thunderbird –the rarest kind. She had a character development, and I love how dedicated and present she was in the whole story.
Sarah J. Maas made sure to let us know that she was present the whole time, making quick decisions for characters. The added humor in some plots was needed to breathe.
This entry just proves the diversity play of Sarah J. Maas introduced more rebels, spies, and thunderbird(s). I'm not saying she was not as variegated as she is now in the old book.
We get to see more wolf packs, wolf fights, archangel soldiers, and Fae customs in the old book, while this one focuses more on the new thunderbird, spies, and rebels. I loved that part, except the storyline could have been more organized with fewer characters and names.
Apart from that, we know Sarah J. Maas and her ability to produce intricate scenarios and make crucial decisions for each character out of God-knows-how-many characters.
This explains how she was present with us and how we are diving into her mind to choose the plots. Along with the amazing plots (you'll know in the last chapter), I found the storyline a bit unorganized.
If you are a regular reader of fantasy books, you could predict some of the stories, so few could have been more impressive. Despite all of that, the twists and the cliffhangers kept me going. Maasiverse will have unexpected turns judging from the last chapter of this book.
I have something to say about the God-Knows-How-Many Characters …
… both good and bad.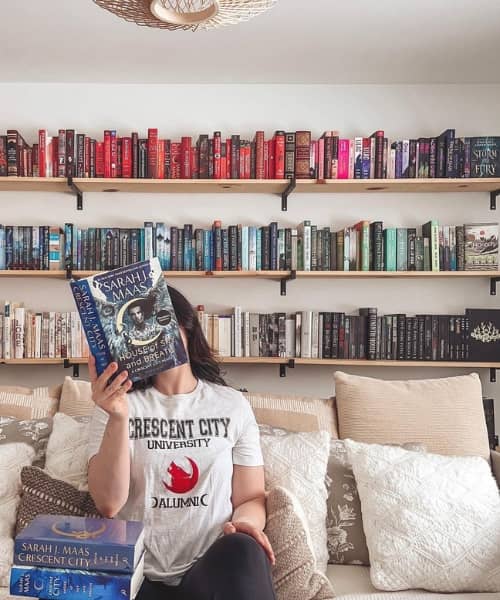 (Spoiler Alert!)
If you have already read The Crescent City, you already know about the power couple Bryce and Hunt. If you haven't, they are just a really good duo fighting demons and understanding each other well.
This book made their chemistry awkward and off the bar. Now, don't come at me for this. I have read opinions on fan community groups, which might differ from mine. Still, I really felt something was off.
They restrained any physical contact before the winter solstice or before they knew each other well (since many of you came here for the Hunt and Bryce spice), which seemed fine to me.
The questionable situations were Bryce being close to other guys and being someone else's fiancé, which was fine by everyone. That didn't seem very so-in-love.
But again, they did have a great understanding and self-control to not mess up again, unlike the previous book, as they were under the strict supervision of Asteri– that might be one of the deciding factors.
I love how Cormac was a potential love interest, but I'm glad it didn't turn out like that because, hey? I'm still Team Hunt. But then Cormac was Agent Silverbow – one of the sweetest characters introduced in the prologue, helping Sophie and treating kids with chocolate.
Guess it was a tough decision for Ms. Maas, too.
Okay, enough about Bryce and Hunt; I gotta talk about Ruhn's character development and how we get introduced to other sides of him that were crucial for the plot. If you need a reason and a sign to read this book, this is it. You gotta read this one for Ruhn's storyline.
They are not the only ones getting actions; some of our favorite characters are also in the scenario with their new relationships.
Sarah J. Maas did not forget to include a modern touch in the book when we were finally introduced to an LGTBQ couple involving one important character (I'm not spoiling it for you) and the other one which I'm leaving for you to imagine (no spoilers).
I'm guessing this move was an attempt at fitting in; she didn't actually dive deep.
Danika's story needs a separate opinion. I was honestly feeling sad for Bryce as she could no longer trust her best friend. I mean, she was keeping so many secrets that could be crucial to the storyline. Could you have trusted a best friend like that?
I could not trust her in the previous book. She had sketchy moves, and you could tell there was more to her than she showed. It's just my guts telling me that she's more interesting in the first book, either positively or negatively, and she couldn't be fully trusted.
Bryce was just in a one-sided friendship that she was too delusional to understand. Danika's unfolding secrets just confirmed this feeling in this book.
I liked her connection to the massively hated Baxian.
When I was reading this part of the book, the only thing on my mind was – "And guess who his mate was…". Deep down, I knew it would be her, and I didn't want it to be her.
My exact thoughts were, "Umm, fuzzy, no, it couldn't be." There's no way this chick could know this guy.
IT WAS FRICKING DANIKA! SHE SURE GETS A LOT OF SHIT DONE FOR A DEAD GIRL.
Baxian was hated for apparently no reason by the whole cast, but I loved it when it all came down to her and Baxian being mates. Crazy.
I get Danika. It was incredible to see how something with minimal presence in the story can have this much importance to the story. Hats off to the plot!
---
How Was the Actual Plot?
Speaking of the plot – it was really sad that Sophie died in the prologue. I was looking out for her and genuinely thought she could bring so much to the table. Then my disappointment reached level 2 – Emilie not being a thunderbird.
We have two pivotal incidents going on.
Sophie actually dies without any character development after being introduced as one of a kind.
Wasting more than 50% of the book finding a kid that was not a thunderbird like his sister which means he was pretty much useless to the plot and to everyone in the world.
Now, that's what I call a huge bummer. I'd forgive this one for Danika's plot, honestly.
I really like how Sophie pulled all the cards to save her little brother and all those kids while not thinking twice about sacrificing herself. Everyone worked their ass off to save Emilie at the cost of nothing to them, but Sophie just wanted to put Emilie into safe hands.
She did just that. Emilie was adopted by Bryce's parents – no questions asked.
Okay, now everyone has their own story of liking a character, usually never for a good one. I'm gonna disappoint you here – I really love Cormac. Cormac's the type of guy that's so important for well-wishes, but he keeps that hidden for the bad boy image he wants to portray.
I was down and out when Ms. Maas finally revealed that he was, in fact, Silverbow. Silverbow has the character of a dreamy prince – much opposed to the character of Cormac – the same guy who was forced to marry Bryce (God, was that a weird duo).
That's when I really felt bad for both Sophie and Cormac. You could already feel the spark between them in the prologue, so I expected to see a lovey-dovey storyline involving Sophie and Cormac. Only if Sophie wasn't dead within 3 minutes.
But I'm gonna warn you if you like Cormac. This stuff is gonna hurt in the end. I found it tragically beautiful, though – it almost made me feel like I chose the right person.
There is something about Ithan from the beginning. At this point, I'm being a powerhound (a made-up word like a bloodhound). Still, I always knew along the story that Ithan has the potential to be the Alpha and might have his own pack someday.
And I was right.
Although Ethan is humble, the biggest shock was that this guy was into Bryce. For a long time. Even before college. What in the fantasy world …
It was definitely not a phase because you can actually see that he is still into her and hoping someday Bryce can understand for good that Hunt was a man-child except in some of the scenes and be with the love of his life. Bleh.
Our girlie Celestina was hated for no reason, too (Okay, she might have done some shady stuff, but it was not that prominent). But Bryce and Hunt have been my least favorite characters throughout the book because of their know-it-all attitude, which is wrong almost half the time.
The fans might love Those two together, but it was just … not for me.
My Take on the Last Chapter
Probably for the third time – the last chapter got me; I was expecting anything but that. This cliffhanger will be solved by the end of the next book. That gave me a serious book hangover and left me with unanswered questions.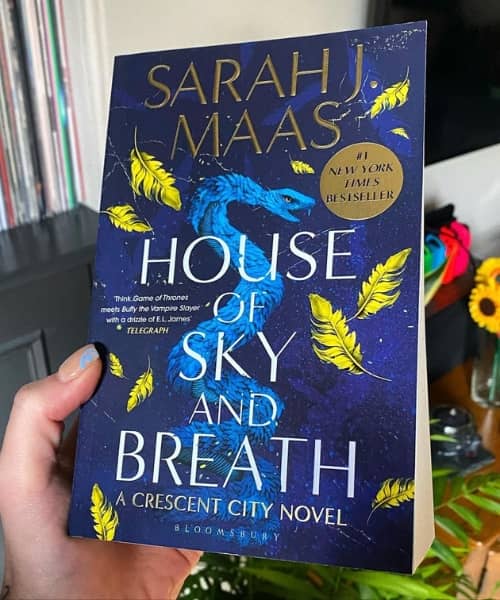 And the next one (House of Flame and Shadow) will not be up for at least … Two years?
So I have to wait another two years, hoping to get answers to my questions. Fair enough.
One thing that I noticed was the involvement of the modern age to make it relatable. You would see words like tabloids, digital news, mechanical suits, and all those sci-fi craziness.
I'm not complaining, but I have mixed feelings about these, considering they have supernatural powers.
I can't let you go without discussing the last chapter, certainly not. I've heard from fan communities that some people could not enjoy the ending like me because it was apparently spoiled by a former fan 6 days before the book's press release.
People who were too impatient got the best of their actions and ruined the part forever.
Not for me, though. I enjoyed every bit of it. Especially the part where Bryce realizes that Rhysand looks awfully similar to Ruhn. But fantasy writers have this thing to connect all the worlds together for the biggest party plot, so this is expected.
The last 15% of the book is the main part where the writers connect all the events together. Still, as a reader, I needed to be given proper pieces of information to understand it on my own and make a jump by myself. Again, it was messy but juicy.
The ending was a cliffhanger, as expected. This involves someone who has the least presence in the book (almost negative presence), being the main worker delivering dramatic monologues in the last scenes. This was a very JK Rowling thing to do, but I get it; it's alright.
Did I see it coming? Probably. You would, too, if you devour fantasy books in your head.
There is likely an incoming third book. My prediction is that it will also leave us wondering how and what. And then we will finally get our answers on the fourth book, because you know Sarah J. Maas, there are four major houses after all.
What Are My Ratings for House of Sky and Breath?
It's hard to answer this one. If I was not introduced to her previous works and did not have OCD myself, I would rate this one 4 out of 5. But I unfortunately do. I'd rate it 3 out of 4 just for the sole reason.
Look, fantasy books have this thing to mess up this reader's mind to finally surprise us in the last chapter. But the fact is … I need to know what's going on and have enough relevant information to actually be able to guess and be surprised.
This book just did not check those boxes for me. I would have liked it more if it had a purposeful storyline incident.
Some dialogues and monologues were needed in that part of the story, and sometimes, some of the incidents were not even decent enough to be considered as 'incidents.'
I don't mean to abhor this one, though. I just liked the other books better. Even with average writing and storyline, this one still works amazingly to not let you put this down for a long time or until you finish it.
I got some of my favorite characters, and they didn't hit up until this book. So, I'm really grateful for that.
My Final Thoughts and Opinion – Did I Like this Book?
Fairly speaking, I have my fair share of confusion as I elaborate. But I'd give it to the plot, I couldn't put that book down for two whole days (and more).
I'm glad that I read it but I wouldn't re-read it because of personal choices. I would obviously re-read House of Earth and Blood for the hundredth time though. In fact, I'm downloading the pdf version as we speak.
Would I Recommend This Book to You?
This is the question you need to answer for yourself. If you like fantasies and have no problem with info-dump and messy storylines, you can give it a go only after you have read the prequel.
If you want to just experience the best of her writings, go for House of Earth and Blood (I just can't stop simping over this one). That's how you know the real magic behind all those plots and beyond.