Hi, this is not a loophole to make you fall into an eternal abyss of Sarah J. Maas' works, so much so that you'll devour all of the eighteen books (and continuing). Please proceed at your own risk.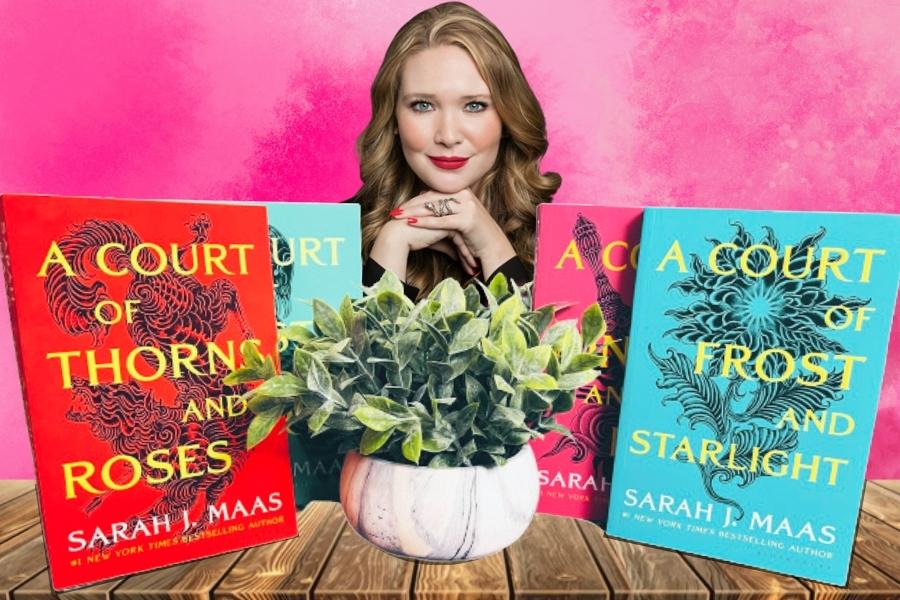 Okay, you're still here. Congratulations, and welcome to the world of Sarah J. Maas.
Sarah J. Maas is popularly known for her work in The Crescent City. Still, y'all are so wrong for thinking she didn't do justice to her other works, and this is the sole reason I'm here with my heavily opinionated overview of her works.
Suppose you are into the world of fantasy fiction and supernatural fiction or just someone who really enjoyed Percy Jackson, Harry Potter, and Twilight. In that case, this might be your time to dive deeper into Sarah J. Maas' works.
Now I get it, her work can get messy at times, but this is what the fans are here for – to teach you about A Court of Thorns and Roses book series order. You are guaranteed to enjoy a lot more this way.
A Court of Thorns and Roses Book Series in Order
Things might seem too rushed, but trust me, you need to know the whole order because, unfortunately, not everyone agrees upon the serial.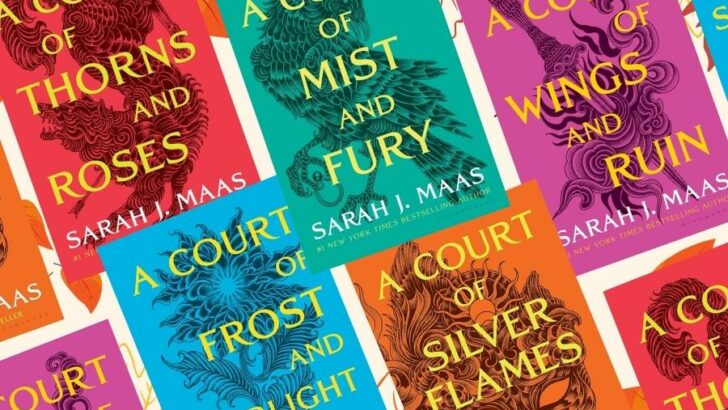 Good for you guys; I've experimented and reviewed all the other serials and found out the best way to experience the magical world of Maasverse is to follow the following order –
A Court of Thorns and Roses (2015)
A Court of Mist and Fury (2016)
A Court of Wings and Ruin (2017)
A Court of Frost and Starlight (2018)
A Court of Silver Flames (2021)
A Court of Thorns and Roses Coloring Book: Companion Book (2017)
That is, following the publication dates. It's just so much easier and fruity this way.
Also, the whole series is like … six books. If we exclude the coloring book (please don't; my inner child can die to play with it), it's five. If you are someone who is used to reading, this is just heaven on earth for you. The story just keeps getting intense and intenser.
Nevertheless, let's start with our series of summaries of ACOTAR to enlighten you if it is worth your time and taste. I'll add spoiler alerts if I need to spoil anything. Chill.
1. A Court of Thorns and Roses Short Review: How Good is the Opening Book?
This feels exactly how the introductory ones feel – overwhelming yet cozy.
I remember being obsessed with The Crescent City series since it is the first series I read of Sarah J. Maas. Then ACOTAR was the second series, probably because of the booktoks and those cannot-resist fanarts.
Let me tell you, this one was equally, if not more, cozy and home-like like the previous series, and I sure have a lot to say about this book.
We get introduced to our most popular protagonist after Bryce – Feyre Archeron, who is a mortal as you read. Personally, I really like this. They were probably one of the firsts to win my heart over because of their multidimensional personality.
She was just your regular next-door girl with a fuzzy personality who takes care of her family until your next-door neighbor is also a huntress who happens to kill a wolf to feed her family. Except, the wolf was a fairy in disguise.
I think things were too far-fetched after this point. I mean, a girl only wants to feed her family. How is she supposed to know which one's a fairie and which one actually is useful to society?
Anyway, magical beings with the magical transmission of neurons in their brain, I'm not gonna comment. She was captured and taken to the Spring Court to receive her punishment of killing a fairie unknowingly. Yep.
Now, here comes the most anticipated man-entry of the book – Tamlin, also a fairie, but this time an important one. I don't like Tamlin, but that proves how well-written he was to appear so annoying that I wouldn't mind puking the moment (spoiler) I read he and Feyre might be romantically involved.
Basically, Tamlin fell in love with his own prisoner. Sigh, he is a man, after all.
Love gets you to do weird things, like how Feyre is not mortal anymore. In fact, she somehow is now a fairie (after her ultimate death under the mountains) and apparently a very important one. The High Lady of Night Court is a whole story we will discuss in the coming books.
Now that she is powerful, she has to get involved in the city and kingdom's affairs. Tamlin has a curse, and she will do anything to save him and the land. I mean, more power to you, girl, but where is your family that couldn't live without you now?
I need answers.
---
2. Let's Look into A Court of Mist and Fury: Do I get my answers?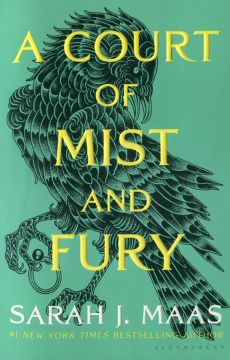 Some of them, yes. The rest only fuel my questions, giving birth to too many questions as an after-effect.
Okay, did I say I liked Feyre? I did? I might have backed down from 'really' to 'Yeah, she's fine.' How could this girl just betray the person (Supernaturals? I don't know) who gave her the freedom to live forever and love till his last breath and go to the superhot fairy of Night Court?
It's unfair that she gets all the bad guys (I am not jealous).
But no, I've been seriously traumatized by the fact that she could do that, and analyzing the depth of Tamlin's behavior, I think she might have been pushed to make the decisions she might not have been making in her stable mind.
Tamlin's hella possessive breaking the fine line between obsession and possessiveness that even my brave protagonist had tremendous nightmares about those? So maybe I don't blame her for choosing the superhot Night Court's fairy in sight? I don't know.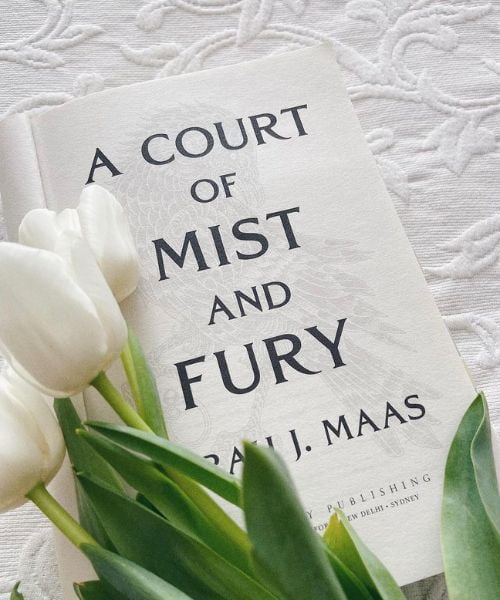 I also liked how her character has developed from a soft next-door neighbor to a well-toned supernatural wonder woman who is now very confident in her moves.
That was a much-needed character development after her abusive relationship with Tamlin. Also, the whole story is focused on something other than Feyre, like in my review. You'll find other interesting stuff and facts about the non-mortal world and their clashes with the mortal ones.
The fight scenes get way more interesting once Feyre joins the Night Court with superhot Rhysand and forms an Avenger-like team with Amren, Cassian, and Azriel.
They are the ultimate endgame; I had so much fun reading the battle scenes, and they were better than the previous book. It's probably because of the better team management, or am I just biased for their visuals? They do look really good as a team.
If you are more invested in romance and character development than other scenes, this is the book from the series for you. Readers will love it for the twists and turns.
Most importantly, I saw our girl struggle between two incredibly stunning fae guys, which was the fun part if you ask me.
---
3. A Court of Wings and Ruin: Did I Like it as Much?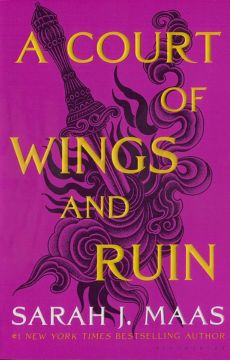 As I said, I was more present for the romance and the hilarious decisions around those. But this one … has something else to give.
If you tell me to name one book by Sarah J. Maas that was so ruthless that you had to put down the book and question your existence … this would be it. This was genuinely one of the most gruesome experiences in my whole book-reading experience. But I had fun. It's true.
I had answers to some of my questions when I said I was disappointed at Feyre for choosing someone else over her first selfless savior. This time, we get a preview of her first love, but in a negative concept, I know my heart was bleeding at the sight of it. However, I genuinely liked them together.
But hear me out (spoilers): I was shocked that Rhysand and Feyre married secretly and were back to rescue the brainwashed Tamlin. Now, if you liked Tamlin, you will get hurt in some of the scenes. It was unkind, and some scenes included violence to your favorite characters.
If you can handle these situations, you are more than welcome to enjoy the book.
The only thing that disappointed me was there was no character development, or you will have a neutral overview of all the characters and maybe repulsive to some scenes?
I mean, it was to me (for the hundredth time). I would love to see some depth in Rhysand's character instead of portraying him as the superhot dude who can do it all, but we don't know how.
If you are reading this, Miss Writer, please try including some feasible romantic storylines instead of jumping to the next superhot, Fae prince.
I'd give her for the plots and the action scenes. The live-action can be nailed easily if the approach is right. I am looking forward to what she offers in the latter books, something pretty 'character developing,' I hope.
---
4. A Court of Frost and Starlight: What to Expect?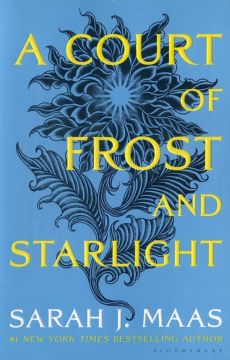 Thankfully, this one satisfied my thirst to dive deeper into each character's relationship.
You get a fair amount of romance between Feyre and Rhysand (Bad news for Tamlin and Feyre shippers) and cookie points – the writer explores characters and their backstories that explain their behavior in the latter books.
The last book caused a pretty damaging state to the mortal and non-mortal world, just like a war-torn country. The newly launched rulers of Night Court, Rhysand and Feyre, have much to retrieve.
I love how Sarah J. Maas lets us discover the weakness and vulnerability of both the characters … Maybe we will see fair character development after crying and begging for it.
I love how Sarah J. Maas kept this one light-hearted and something to be enjoyed by all her fans. There is no intense plot, which might get boring or feel out of the blue for someone like Sarah J. Maas. This is what I expected when I read the blurb.
So, the whole book is about coping with the aftereffects of the war-torn state and people just dealing with their personal problems? How is that a fantasy book? Even if it is, how is that interesting?
Okay, I get it. Here's where Sarah J. Maas surprises you — this book explores a new era of personal development and supernaturals finding their own struggles by fighting their demons.
This one changes the entire perspective for those who thought fantasy novels were not relatable. Just one of the hundred reasons for this one being the comfort book among the whole series.
You can see Feyre's sister healing and struggling, an entirely different healing journey that earned my appreciation. Mental health appreciation, y'all.
---
5. A Court of Silver Flames: The Last of All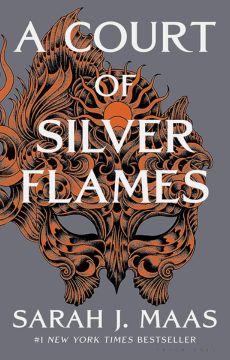 This book is a temporary break from our main couple and focuses more on Feyre's sisters, Nesta and Cassian.
Nesta has been transformed into a high fae against her own wishes, which automatically worsens her mental health, resulting in her isolation from everyone else, especially from her sister.
Turns out she is not alone in the journey. Cassian has always had a thing for her, and as they get romantically involved, Cassian helps her heal her trauma.
All these sounds so sweet, right? It actually is that nice. I think Sarah J. Maas realized that her third book had been too rough, unkind, and gruesome for her readers, so she tried to provide some soft and relatable content in her last books.
From what I have noticed, the violence has gone visibly low, and the romance and the relatability concerning mental health are flying to the moon.
I think it's that prominent since mental health is a hot topic among teenagers of today's age. I don't mind her sneaking a bit of modernity here and there. Fine by me.
You would be disappointed if you expect the romance to be as good as she did with Feyre and Tamlin or Feyre and Rhysand. They were okay by me, nothing over the top. Nothing that could excite me. Going back to my opinion – yes, the latter ones are, in fact, comfort books.
I like them, though; I needed these comfort books to heal the traumas from A Court of Wings and Ruin.
---
6. A Court of Thorns and Roses Coloring Book: Companion Book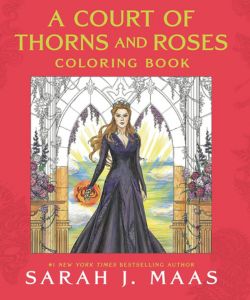 So why is a coloring book here? Fair question. Trust me, this is the most important one.
Fantasy books are usually famous for their characters and the imaginary silhouettes the fans imagine. A Court of Thorns and Roses is no exception.
In fact, if anything, a positive exception makes this book stand out: the amazing fanarts imagined by the artists captures the characters' silhouettes perfectly.
I'm not a kid. Coloring is not something I would throw my lungs out for. But there is something that deserves this treatment: the hard work the artists put into imagining the characters with this accuracy.
You will find Feyre like you imagined her in your head, but you're free to reimagine the half of it — the colors.
I wasn't particularly excited about this one until I saw the book in real life and my hands. This book was a gift to my inner child. I have very few moments where I have felt this much happiness seeing colors and books— almost moments I don't even remember now. It deserves its place in the series.
---
Final Thoughts
Sarah J. Maas never disappoints, and she proved it one more time. One thing about her writing that bothered me the most was the info-dumping traits in random places of the chapter and without context, which she did in The Crescent City.
But thankfully, we didn't have to see such writing in this series, which gave birth to her bestseller series A Court of Thorns and Roses.
I enjoyed reading the book, and I would rate it ⅘. One mark deduction because you might feel overwhelmed by the new world introduction, which might lead you to drop the book.
But don't. Trust the process. Once you get the hang of it, things will start to make sense, and you'll quickly be inseparable from your books. Again, it's just a matter of time.
I am someone who was obsessed with Harry Potter, Percy Jackson, and Twilight. Judging by my taste, I should be obsessed with anything Sarah J. Maas comes up with.
That's exactly what happened, and if you are like me or even want to explore a bit of the fantasy world, I recommend you start reading the series right now if you haven't already.