What? You thought I was done with Sarah J. Maas books? You bet.
Okay, I might not be the biggest fantasy and fiction fan, and I'm more into non-fiction (girl's gotta pump their brains with factual information, too).
Still, Sarah J. Maas is where I draw the line, probably because the whole series reminds me of my childhood as I was obsessed with Percy Jackson and Harry Potter.
Are you sensing I might be calling Sarah J. Maas's writing style a lovechild of Rick Riordan and J.K. Rowling? Yep, I'm doing exactly that, and if it is something that interests you, you are in the right place.
Most of Sarah J. Maas's readers come from her 'The Crescent City' series. I'm no different – that series was fire, and TikTok went crazy over the fan art.
That was a trap. Ms. Writer set this trap, and now, I'm addicted to her novels, her nineteen novels altogether. The Crescent City had its own fan base, and the rest of them started to explore on their own and found more hidden gems – one of them being Thorne of Glass series.
I know Sarah J. Maas and her way of just dropping the best books of all time, so I understand if you are overwhelmed by the list of books or the more important question – what's the order?
Well, before I give my heavily opinionated verdict, I tried reading other people's opinions on the perfect serial that brings the best out of the Throne of Glass series order.
Back to square one. I still love my own publication date-wise serial. It is unbeatable.
Throne of Glass Books in Order – How I Like It?
Enough of rambling, here's how I like it: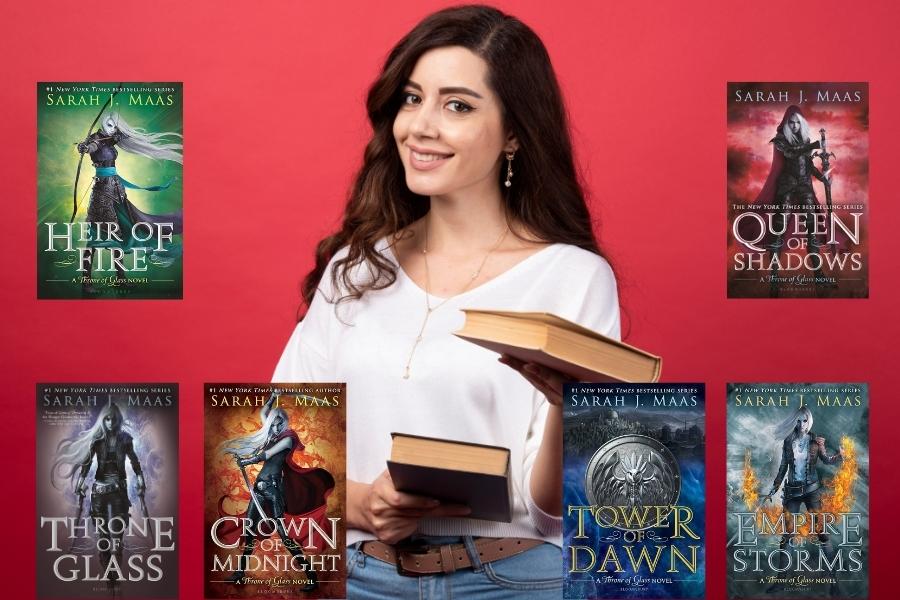 The Assassin's Blade (optional).
Throne of Glass.
Crown of Midnight.
Heir of Fire.
Queen of Shadows.
Empire of Storms.
Tower of Dawn.
Kingdom of Ash.
Now, if you are already familiar with the number of books in the series, welcome to the world of Sarah J. Maas. But if you weren't, then I have some good and bad news for you.
But this Throne of Glass will help you to maximize the potential of the series and the guaranteed enjoyment if you like fantasy books.
If you still think that all this is too much for you or you're stressed and confused if this series is a good fit, I got you – I have the summarized version mixed with my overly enthusiastic review just around the corner for you to judge.
I added (and read it myself) The Assassin's Blade for the effect because the protagonist's background story was too good to be missed. You should definitely give that one a try unless you're really in a hurry.
What Do I Think of the Books?
Let's talk about each book separately while I'm at it. You'll be able to gauge the story, characters, and all the other things that make these stories tick.
1. Throne of Glass Book Summary and Review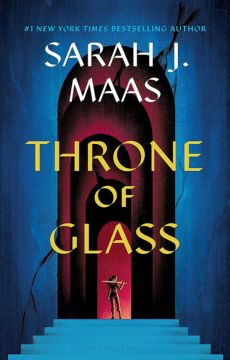 Before I picked up the courage to start another humongous series, I did my sweet little research on the synopsis of this book. God help me.
All I could pick was – Celaena is a deadly assassin. A pretty deadly assassin. A very pretty assassin. Gorgeous. The end.
I mean, I wasn't ready for this. I saw the book cover, and it was amazing! The font and artwork were badass, so much so they could alter someone's brain chemistry and draw a new curve on how they perceive attractiveness.
But all it did was teach me a very valuable lesson in my life, which is to never judge a book by its cover. But let's not judge too quickly. I've been told SJM wrote it when she was only 16.
… You can tell.
All fun aside, the story is about a deadly assassin, Celaena Sardothien, who has been imprisoned by one of the magical Lords. Fortunately, she was offered freedom in exchange for winning a deadly battle against all of the creatures of the competition.
Then, she will be offered a position as a personal secretary of the Lord, and after serving a few years, she'll be good to go. But the twist is — an unknown energy or creature is killing everyone in the competition, which creates a mystery, and our protagonist is determined to solve it.
The story takes turns as she falls into trouble and saves herself every time.
Yeah, cute story. But I need to have my rant session on this one. First, why is Celeana such a pick-me and has a sense of time and place? I get it. I love books, too, but I won't necessarily choose to stare with my eyeballs out if my other option is to fight a demon that's plotting to take my life.
Second of all, despite being the clumsiest assassin. Hey, don't argue with me on this. She just ate a whole bag of chocolate without incurring its sources in a castle. Everyone was getting mysteriously murdered there. She has the trope of being too great that she looks down upon feminine traits.
As a feminine woman in a 'masculine' academic field, aka Engineering, I so wanted to bully the shit out of her, but let's not get personal. She's not real. So, if you are a feminist, put this book down and run away from this book as far as you can.
And then I always say this: if you abhor a character in the book for their characteristics, then it was written well enough to get on your nerves.
It's a good read if you are sixteen, seventeen, and maybe eighteen. Not more than that. Because the book talks more about ideas and less about action. It is not gruesome but a comfortable read.
---
2. Crown of Midnight Book Reviewed with Summary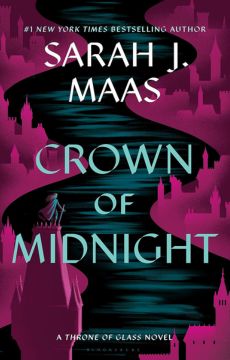 Good news: You actually see her fighting and doing cool stuff in this book, unlike the previous one, basically living up to her reputation.
I think I ranted a bit too much about Celaena's character, or SJM did a pretty good job in her character development. The girl who was rude and was called a deadly assassin for no reason at all is suddenly all up for her good-girl morals, even if it means betraying her own King.
Picking up from the last book, Celaena is now the King's personal assassin, which means she has to carry out her King's every order, including any person her king orders to kill.
The good news is our protagonist has finally grown a spine to stick to her morals and used her brain to pick up a dead body. She even mustered up the courage to show it to the King every time she is ordered to kill someone instead of killing someone for real.
Basically, she can be a bit dumb. Still, she's not heartless just to achieve her freedom – and that's the origin story of how I actually like Celaena or, should I say, Aelin?
The last book was more about romance and dresses than about actual action, which accelerated one good thing – us finding the perfect ship to support. For me, it will always be Chaol and Celaena.
The part of Chaol confesses that he cares about Celaena to Celaena, my heart!
When Celaena comes running to the castle, who comes to her aid? Chaol, my heart!
When Celaena cries because of the harp playing and she holds Chaol's hands, my heart!
Them dancing out the ball, my heart!
Since I talked about Chaol, I think Dorian deserves some spotlight, too. I'm going to be honest: I do not like Dorian with Celaena. She's better off with Chaol, and I've made that clear, obviously.
But this character… is like Draco Malfoy from Harry Potter. You cannot fully hate him, but you will actually start to grow on him as the story progresses.
I loved it when I could sense some chemistry between him and Nehemia and thought, finally, Dorian's whining is gonna come to an end. Until, of course, Nehemia engineered her own death.
The one character that you can hate (read abhor) or maybe rip their hearts out is the King. I mean, we already know that he is a bad… bad guy, but I swear when he killed Rena for singing about faeries and the King's injustice, I wished the seventh hell for him.
---
3. Heir of Fire Book Summary and Character Analysis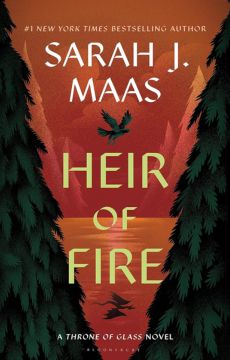 This is what people have been telling me- Heir of Fire is everything that ever needs to exist, ever.
Heir of Fire is known as the best one out there in the Throne of Glass series order, and I have nothing to disagree with. Listen, whatever I was complaining about in the previous books has been resolved here.
Celaena dumbness? Huge character growth. Chaol and Celaena? New twist. Pick-me girl? Far from that. Actions and real combat? Loads of them.
I honestly felt bad for Celaena at the beginning, like her beloved Nehimia just died, Chaol just betrayed her, and she was gone off to another land… things are rough.
The amazing part of this book was that SJM finally got rid of the cliché romance and cringe discussion of fashion. All we talk about now is individual growth and my favorite relationship, which is between– Celaena and Rowan.
Yeah, I know I was all in for Chaol, but the moment he allegedly betrayed her, he was out of my list. It was mostly — Team Dorian for book 1, Team Chaol for book 2, and now… Team Rowan.
SJM did an amazing job of not messing up another beautiful platonic relationship. I'm pretty sure everyone, including me, was hoping they would be more than friends.
Sorry, Dorian and Chaol, but these two just get each other. Don't get me wrong, I always wanted Dorian to be happy. I even wished the best for him, but he got screwed on so many levels in this book. I'm really concerned for him in the fourth book.
Heir of Fire has been way too true to show their magical world. The first two books were messy and kind of info-dumping on us. Still, this one just hit the perfect blend of progressing the story along, introducing us to the darkest side of the magical world.
This book has revealed so many pieces of information that I think this could be a great ground for later books to come. Perfectly positioned.
If you haven't read The Assassin's Blade, you're going to miss so much fun in this book. Once you get the hang of the backstory of Celaena's past, you will grasp the concept better.
This is just like the story of Celaena's childhood best friend (I really hope he's doing fine).
Or let's say you don't care about the serial and are in a very bad and desperate mood to start any fantasy book in sight. This should be the one you're looking at.
You'll find tons of spoiler-driven reviews (like this one), and those are enough to make you start this series midway. I'm totally vouching for it.
---
4. Queen of Shadows Book Short Review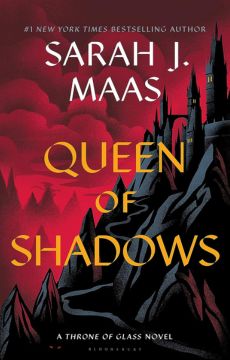 The last book created a huge potential for action scenes and nothing to disappoint. There were pretty good actions to keep you going.
There's bad news, though – some of your beloved characters are going to transform so much that you might form a different opinion of them at the end of the story.
And I would like to talk further on this topic. The whole time I was going through this memory crisis, do I remember the character at all? Is this a character development or a whole character reboot?
That starts when Celaena is not Celaena anymore. She now strongly prefers to be called Aelin. This was kind of predictable since, at the end of Heir of Fire, she accepted her lineage and family history.
Almost made peace with her alter ego (because somehow her personality has changed with the name, too). I am happy for her, but this is too unknown for me.
SJM Really changed the character with the name. For example, Aelin is a totally different yet interesting person now. She is now a deadly deadly assassin who still hasn't lost her quirky side.
One thing that I have noticed is the jump-off relationship development between Aelin and Chaol. Chaol is also a different person now, but the character gap math does not match. The last time they saw each other, Aelin was like I'll always choose you. And the next thing you know — they hate each other.
The plots are amazing compared to the previous books; things are only getting interesting as the stories progress and build, and it is now … how do I say it? Much more complex. The world is so much bigger now and has mature twists that make sense. I loved this part of the book.
Oh, Rowan and Aelin were also secretly in love with each other the whole time. Even though that's what the whole fandom wanted, I think it was pretty rushed, and the romance was out of nowhere.
Overall, I'd give it 4 out of 5.
---
5. Empire of Storms Summarized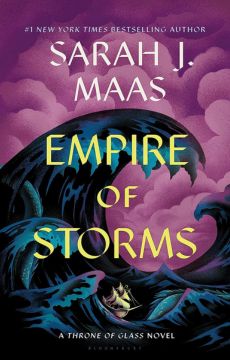 Ah, this is gonna feel like bad news if you're a fan of Aelin. Bad news: She's awesome now, so you can't relate anymore.
I mean, I'm sorry for all the fans who are whining that her character has changed too much, and now she just exists for the plot. This is what a deadly assassin should do.
But I get it. She is very boring now, and I skip most of her chapters. You won't, though, if you're interested in Rowan. Because that's all she thinks about when she is being human.
Okay, remember how we all were dying to know more about the world in the first two books? SJM gave us that in this book. And the cost was the world narrative needing to be more disoriented.
You would see the POV shift towards the past, and you will meet people that you don't recognize but are supposed to recognize from the previous books. Only because the writing seems suddenly mature, not coherent to her teenage years of writing — but that's my thoughts only.
The ladies in the books, though, especially Manon, she's now officially my favorite character since The Queen of Shadows. She's compassionate, edgy, and dark, with an interesting take on every plot. I'm mesmerized by her. If you need one reason to start this book, it should be her, no questions asked.
---
6. Did I Like Tower of Dawn?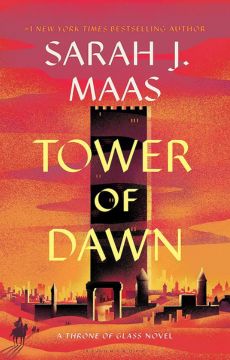 Justice for Chaol!
Justice for Chaol!
Justice for Chaol!
Chaol deserves better!
Yeah, Sarah J. Maas heard you. You're now getting a book focusing on Chaol's story. So, if you love Chaol, then you will be reminded why you loved him. And if you hated him, this might shift your perspective.
Either way, it's a good and refreshing book — the plots are like a breath of fresh air. If you're wondering if you should read this one or should just keep to the last one, you are already in a committed relationship with this series; if you have reached here, one more book won't hurt.
SJM does her magic here that she repeatedly does in her other series, which is to connect a present book with another world or with a book that was published ancient years ago. I'm not spoiling this for you; just read The Assassin's Blade.
Except focusing on Chaol, the storyline and the PTSD realization about his disability make it more relatable and expose the vulnerable side that we were not shown in the previous books.
Other than that, Yrene and Nesryn were the big guns. Loved how the whole thing is packed with emotions and adventures with interesting plots.
This is a calm book, like the easy-going one, yet packed with Easter eggs. The reading felt like a breeze and was more of an intensifier. Less action but more to the emotions. But is this one really a comfort read? I'll leave that up to you.
---
7. Kingdom of Ash Summary and Review
Tip: Tower of Dawn is a huge part of this book, so please only proceed with it. Unless you want to miss the fun, of course.
The ENTIRE book is the final battle, and the whole time, I was imagining Lord of the Rings! Things could get easily tragic to the point everything feels violent. I think SJM tried to take as much action as she could because
A. The last one was pretty easy-going.
B. It is the last book.
The war scene in the fighting was great, but the reasoning behind the war and the motivation behind winning needed to be clarified for me. I mean, I still don't know why they are fighting and why they need to win. Not any intense reasoning. Freedom? Defeating Erawan and Maeve? Bleh.
Aelin, like every other chapter of the previous book, has been boring but somehow, always in trouble. Like the book started with Aelin trapped in a box and … how are her POV chapters still so long trapped inside a box? Crazy.
New add-ons are LGBTQ relationships but for the sake of modernity rather than representation, because oh my god, can they be any weird? Anyway, good for her, representation matters.
In my opinion, discussing this book too much might kill the mystery and beauty of the ending and honestly, there's just way too much to discuss to make this a summarized version of my heavily opinionated review.
But Dorian is gonna get another version of reality, and he's gonna find the love of his life — that's what I'd like to believe and I rest my eyes on the series as I say that.
---
Do I Recommend Throne of Glass Series Order by Sarah J. Maas?
Sarah J. Maas' TOG Series Order is fire if you know how to read the whole thing. My first love will always be The Crescent City, and there's no doubt about that. But if I had to choose a second favorite, this would be the one.
Love how Celaena-turned-Aelin has developed throughout the series so that she's almost unrecognizable after Queen of Shadows. The actions, war scenes, and romance take turns in each scene of each book throughout the whole series, so they kind of balance each other out throughout the series.
If you are interested in fantasy and unrealistic dramas with a knack for humor, dark psychology, and obsessive characters (SJM has an outworldly talent for writing and making other people obsessed with her characters), this might be the right choice for you!