The queen of Young Adult romance, Colleen Hoover, has had her fair share of ups and downs ever since her career took off with the help of her 2016 novel, It Ends With Us.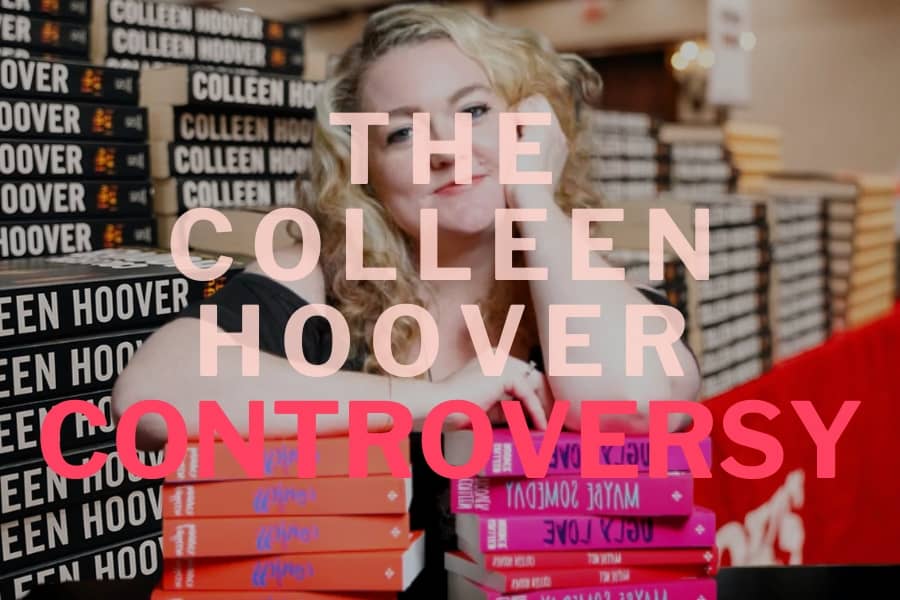 With over 8.6 million copies of her books sold in 2022 alone, Hoover reigned in 2022's Bestseller List, according to Forbes.
Despite her unprecedented rise to fame in 2021, a series of controversies surfaced, causing a stunt in her popularity. The marketing genius Colleen Hoover has her marketing tactics turning against her now.
Will she rise from the ashes of her downfall? Or is this the end of the Colleen Hoover era?
The Rise of Colleen Hoover
Colleen Hoover is an American author who began her literary journey in a trailer park where she lived with her two sons and husband and wrote her self-published debut novel Slammed in 2012.
Despite facing many rejections from publishers, her determination and belief in her book led her to turn it into a trilogy called Slammed. Her persistence bagged her a nomination for Best Young Adult Romance in the 2012 Choice Awards.
Since then, Hoover wrote 23 more books, some as series installments and the rest as standalone or anthologies.
While it is her loyalty towards the new contemporary romance that made her hold six of the top 10 spots on The New York Times's paperback fiction bestseller list, she dabbles in genres like paranormal and psychological thriller from time to time.
In 2020, with everyone at home due to the pandemic, TikTok subcommunities blew up our phones. One of those subcommunities was the BookTok community. Yes, we're talking about THE BookTok community.
However, for most of her career, Hoover used and still uses Facebook as her primary social media platform. Ever since her 2016 novel, It Ends With Us, was discovered by the newborn BookTok community in late 2020, her career and the BookTok community both skyrocketed.
With BookTok still being quite new back then, Colleen Hoover catered her marketing strategies to create a strong fanbase called the CoHo fandom and her fans called CoHorts with the help of It Ends with Us.
BookTok and Hoover's marketing team working hard as ever, It Ends With Us soon reappeared on the New York Times Bestseller's List in 2021. As of last year, Hoover has sold over 3 million copies of It Ends with Us, according to its publisher, Atria.
The success of It Ends with Us got fans and BookTokers begging for a sequel. Like a good fairy godmother, Colleen Hoover made her fans' wishes come true with It Starts with Us in the fall of 2022.
Being the marketing queen she is, Hoover began her campaign to ensure she caters to the TikTok and Instagram algorithms to ensure the success of It Starts with Us by hosting a giveaway and doing cover reveals.
She took to her social media, "I signed a bunch of copies of It Starts with Us. Who wants one?" Simply having to comment to win a copy, a staggering 40,500 comments from CoHort poured in.
Despite receiving mixed reviews, they sold over 800,000 copies the first day the book went on sale, making it the most pre-ordered novel in Simon & Schuster history, according to Simon & Schuster. The devil may work hard, but Colleen Hoover's PR team works harder.
To get a further in-depth analysis of Colleen Hoover's marketing campaign, head over to The Publishing Post.
The Secret Ingredient to Colleen Hoover Novels
Growing up reading about Snape's undying and tragic love for Lily Potter and then moving on to dreamy male characters like Mr. Darcy and many other Austen characters, I thought I was about to step into the ultimate love story of our generation.
Especially when I picked up It Ends with Us from my local bookstore.
In the early chapters, I still had high hopes when I was introduced to our bubbly sunshine girl, Lily Bloom. I didn't get any early red flags when the plot kept fixating on Lily's traumatic childhood and abusive relationship with her father instead of her life in Boston with the flower shop.
What caught my eye was the lack of writing techniques. Most authors spend half of their lives studying the great art of literature. Colleen Hoover, she's a businesswoman first and a writer never.
It may sound ridiculous to hear this about the best romance author of our generation. But hear me out when I say that an author who built her career by using the social media algorithm in her favor doesn't mean she can be the next Jane Austen.
Literature isn't something that will just come to you one day after working as a social worker for half of your life, and that is reflected in Hoover's writing skills. Having sub-par plot ideas and simply stringing words like a toddler to narrate a story doesn't define an author.
If Colleen Hoover didn't exist in the day and age of social media, would she be the queen of Young Adult novels?
Then, what is the secret to her success? Why is Colleen Hoover controversial to begin with?
Her use of BookTok influencers to blabber praises for her books, like those cheap Shein influencers who mindlessly buy thousands of dollars worth of products, worked wonders.
Especially since social media platforms like TikTok and Instagram are used by teenagers mostly, aka Colleen Hoover's audience.
Teenagers and young adults are notoriously known for being gullible, which Hoover took advantage of and insidiously fed them the glorification of toxic and abusive relationships.
Not only did she promote the glorification of trauma in the name of "telling the reality of abuse," but she also exposed young teenagers to graphic descriptions of rape, domestic abuse, and violence without any trigger warnings or age discretion whatsoever.
Boy, oh boy! Imagine how thrilled the parents of these young teenagers were that they handed them a traumatizing pornographic novel as "new contemporary romance."
Almost all romance readers are girls and women, which makes Hoover's business strategy much more sinister.
Normalizing domestic, mental, physical, and sexual abuse to impressionable young girls raises an alarming concern when they decide to bear this abuse in their relationships because this is "love."
Well, ladies and gents, this is the secret ingredient to Colleen Hoover's novels – luring naive teenagers into mistaking abuse as love.
The Fall of Colleen Hoover
It Ends with Us' success sold more than 20 million copies of Colleen Hoover's books, according to the New York Times in 2022. When over 20 million people read her books, it's realistic to get mixed reviews because it can't be everyone's cup of tea.
However, the reason most novels written by Colleen Hoover, including It Ends with Us, received backlash was due to her portrayal of relationships, especially when a majority of her target audience is teenage girls or teenagers entering adulthood.
Imagine receiving backlash for what you were known for in the first place – Yikes!
It came as a surprise that it took so long for people to voice their concerns against this matter because Youtuber Whitney Atkinson spoke out about it years ago.
She took to Twitter (now called X) and tweeted a photo of an excerpt from November 9 written by Colleen Hoover in 2016.



The excerpt is a detailed description in which the main male character contemplates using physical force to stop his love interest from exiting the vehicle after his attempt to emotionally manipulate her failed.
This was one of many problematic scenes in Hoover's novels, traced back to even her earliest works. Dramatic stories that use abuse to feed in the true love narrative and keep her readers intrigued are one of the two plotlines seen in our beloved CoHo's novels.
If she decides to switch it up, she will introduce the trauma-bonding relationships. What is better than abuse? The trauma that comes after, of course!
In It Ends with Us, we had the opportunity to witness her creativity with the usual abuse equals true love plotline with Ryle and Lily. Hence, to spice things up, she introduced the trauma bonding plot for Lily and Atlas. No wonder it is considered the "best romance novel."
To add the perfect cherry on top, Colleen Hoover creates submissive female characters with no sense of self-respect, whose relationships wouldn't exist without the 'damsel in distress' narrative, to reflect her outdated and damaging stereotype of gender roles.
The damsel in distress narrative is equally damaging as her plotlines, as every character arc in her female characters is defined by a man.
Characters like these teach young girls to mask their personalities and undermine their personal growth to be deemed lovable and acceptable by their partners and society.
In all seriousness, her lack of writing skills and vile glamourization of abuse and sex portray both female and male characters as sexual objects due to their lack of personalities. It re-establishes the extent of harmful content in her novels and how badly it can affect young teenagers.
It seems the only time her writing skills don't fail her is when she has to go ahead and sexualize every physical aspect of her characters to make them desirable to their love interest and her audience.
In a world where we are actively educating everyone about consent, novels and characters like these turn the power of literature against us to destroy our voice when it should've been the one aiding it.
It was about time we prevented authors and other creators like Colleen Hoover from influencing our youth into believing boys pulling on pigtails and wearing down their crushes into being with them by harassing and stalking them is in any way a form of expressing love or interest and not abuse.
How Colleen Hoover's Son Contributed to Her Downfall
Karma spares no one, not even the queen of young adult novels, Colleen Hoover. In February of last year, Hoover's son was accused of sexually harassing a minor.
According to a tweet from February 12 that was mysteriously removed later, Levi, now 21, allegedly harassed a young woman when she was 16, a fact she says the younger Hoover was aware of at the time. Here's the famous reddit thread for our readers.
There was screenshots from a Twitter account in favor of the allegation as well.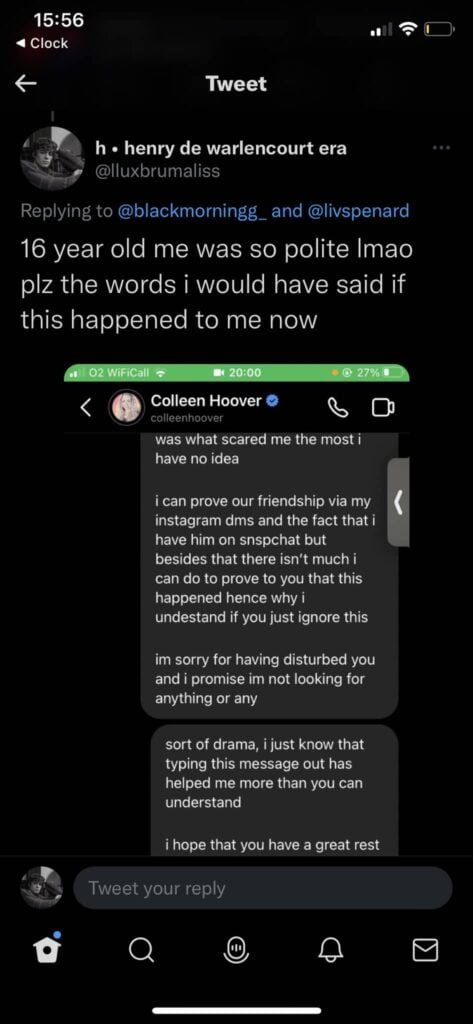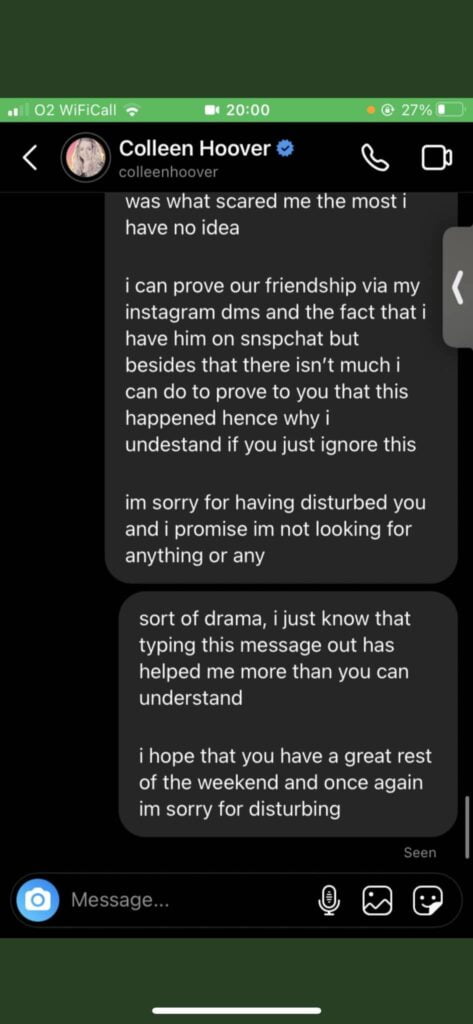 Sounds like Colleen Hoover got a taste of her own medicine as her son, Levi, exhibits the same worrying behavior she bases all of her male characters on.
Hoover acted quickly and addressed the tweet in a private Facebook group dedicated to her with the statement:
"Things being said about my son aren't accurate. People are commenting that I blocked a girl for informing me that my son sexually assaulted her when she was sixteen. This absolutely did not happen, and this is not even initially what was said by this person."
The Famous author continues:
"My son and a girl were online friends for several months. They never met in person. He said something to her in a message that made her uncomfortable."
The Ugly Love author adds:
"I didn't address it publicly because 1) I feel it's not my place to talk about someone else's experience and 2) everyone who knows me here has seen me parent these boys and hold them accountable. I'm sad this happened. You guys know I've tried my best to raise my children with respect, and to show respect."
Unfortunately for Hoover, the tweet spread like wildfire, even before she could release the statement in which she held her son accountable. By the time she addressed the situation, the BookTok community voiced their opinion on the matter, and some users went as far as discarding and burning their collection of Colleen Hoover novels.
Soon enough, the #ColleenHooverSlander reached 44.9 million views on TikTok, where even her loyal BookTokers turned a blind eye to her.
The accusation added fuel to the fire of the criticisms she faced in the past for her glamourization of toxic relationships.
The controversy surrounding Hoover's son should've been a wake-up call for her to do better as an author and a mother for her audience and her influence on them. Alas, you can lead a horse to water, but you can't make him drink.
Colleen Hoover's Last-Ditch Attempt at A Comeback
Hoover is determined to make a comeback. For her first act of redemption, she used fan service to ensure her latest installment for the It Ends with Us series, It Starts With Us, was a success.
It worked in her favor since it soon became the most pre-ordered novel in Simon & Schuster history, according to Simon & Schuster.
Her career was returning to normal again with the upcoming movie, It Ends with Us, despite the negative reaction it received from fans due to cast and costume choices. However, that came to an abrupt end because of the WGA strike but is set to be released on February 9, 2024.
Seeing how fan service aided her comeback, she hoped to use it to her advantage once again when she announced the publication of The Official It Ends with Us Coloring Book earlier this year. Instead of working in her favor, the coloring book rehashed all the problematic aspects of her career, considering how the novel was solely based on domestic abuse.
Colleen Hoover was accused of being tone-deaf by social media users for once again romanticizing abuse in her adult coloring book.
"This is so gross. Why make a book about literal abuse into something as lighthearted as a coloring book?" one Instagram user commented on Hoover's announcement post.
Even BookTokers who describe themselves as former CoHorts took to TikTok to voice their disappointments. One TikToker even questioned whether Hoover should be taken seriously as an author anymore.
She captioned her video – "beyond tone deaf like just actively harmful". The video reached more than 1 million views and 289.4K likes on TikTok.
Soon an announcement of the discontinuation of the coloring book and a public apology issued from Hoover's Insta account, which stated:
"The coloring book was developed with Lily's strength in mind, but I can absolutely see how this was tone-deaf,"
She wrote:
"I hear you guys and I agree with you. No excuses. No finger-pointing," she went on to say. "I have contacted the publisher to let them know I would prefer we don't move forward with it."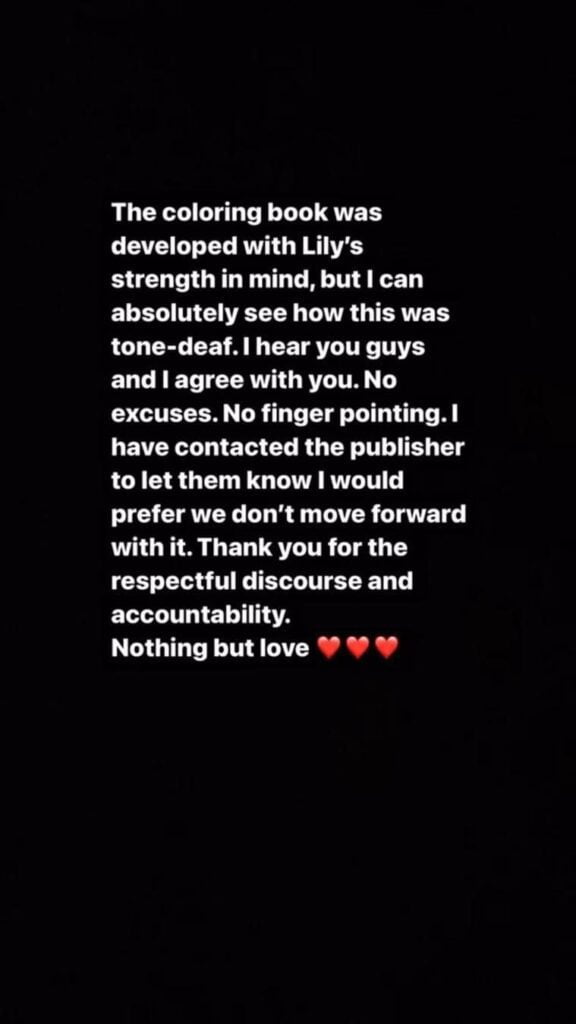 One Can Only Wonder
Is this the end of the Colleen Hoover era? Will her once genius marketing tactics continue to fail her? Or will she be able to make a comeback?
Only time can tell. But, for now, I'll be jamming to Karma by Taylor Swift.