Whether you are here because Booktok finally made its way to your TikTok for you. Page or to understand the hype over Colleen Hoover's books, don't worry because I have got you covered!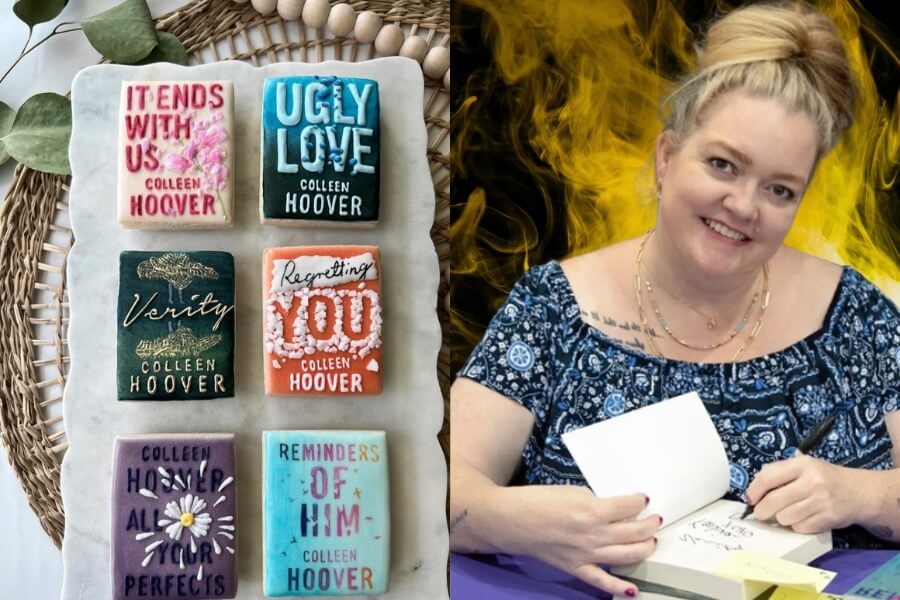 Being a diehard classic romance novel fan, I was stepping into uncharted territories of modern romance novels a few years back. Without a doubt, the first suggestion that popped up in the book community was none other than Colleen Hoover's books.
It's a safe bet that I've read some of her best books before Booktok turned it into a trend and got everyone to jump on the bandwagon. Hence, if you want an honest review of Coho books, you've come to the right place.
Getting To Know Colleen Hoover – The Writer
Colleen Hoover began her writing journey on a borrowed laptop. One of her first manuscripts, which was intended as a Christmas gift for her mother, turned out to be the one that bolstered her career as a writer. The book was none other than her 2011 best-selling romance novel, Slammed.
After facing many rejections from publishers, Coho went ahead and self-published Slammed. Soon enough, it climbed up the best-seller list. Point of Retreat (2012) and This Girl (2013), prequels to these series, soon followed suit.
However, 2022 was the year of rein for Colleen Hoover. Coho unlocked the key to her marketing strategy and began to rule Booktok ever since. No other would beat her spot for most popular books.
There was trouble in paradise for Colleen Hoover when a Twitter user came forward with allegations against Colleen Hoover's then 21-year-old son, Levi Hoover.
The Twitter user claimed that Levi sexually harassed her back when she was just 16 years old, along with screenshots of her notifying the incident to Colleen Hoover.
Colleen Hoover dismissed the allegations by addressing them on Facebook in the statement — "Things being said about my son aren't accurate. People comment that I blocked a girl for informing me that my son sexually assaulted her when she was sixteen. This absolutely did not happen, and this is not even initially what was said by this person."
Since then, there have been no updates from the person who came forward with the allegations.
However, when Colleen Hoover released this statement, many users and previous fans of Colleen Hoover began urging everyone on social media to boycott her. Some even went far enough to discard her novels from their book collections. We've recently covered the entire debacle in our article on this Colleen Hoover controversy and more. Feel free to give it a read.
Excited to learn what earned her this glorious place on our bookshelves? Keep on reading to find out the best Colleen Hoover books!
What Kinds of Books Does Colleen Hoover Write?
While CoHo claims to not be restricted by the ideology of a genre, her works mostly focus on the new adult contemporary romance genre. It's the most popular genre her fans cherish.
However, her works from other genres are not to be understated. Verity, for example, is the best piece of writing aside from It Ends With Us, despite being a psychological thriller.
The BookVibe Staff published an article on Colleen Hoover's books and the order anyone should read them in. Feel free to give that piece a read.
Which Colleen Hoover Books Are the Best?
If you are a CoHo book fanatic or looking for the perfect guide to get started on a journey of gut-wrenching, heartbreaking, and a few knick-knacks of psychological thrillers, this section will help you acquire the answer to the age-old agony of finding her top-rated books checklist, to begin with, or just find out the fan favorites.
In true book reviewer fashion, I've let Goodreads users' ratings answer this question. What better way to find CoHo's must-reads than to have readers of every genre rate them for us?
Why did I opt for this route? While Colleen Hoover is known for her new adult contemporary romance novels, she wrote her fair share of genres.
She soars as the #1 most-followed hashtag in her Goodreads Author profile, in which she wrote the following as her Goodreads Author Dashboard Bio, "I don't like to be confined to one genre. If you put me in a box, I'll claw my way out."
Different people love different genres, including me. Hence, it would only be fair to everyone's Goodreads ratings for ranking top Colleen Hoover books due to the versatility of her genres.
Keep on reading to find out the best Colleen Hoover checklist!
Best Colleen Hoover Books Ranked as Per My Standards
Hands down, this is my favorite segment of book reviews. It works as the one-of-a-kind guide on how to start reading CoHo books or find out the holy grail checklist of everyone's favorites.
Her best book, with the number one ranking, is the one that most readers enjoyed no matter their favorite genre. Undoubtedly, it will be the best one for you, regardless of your favorite genre.
Let's explore Colleen Hoover's must-read checklist!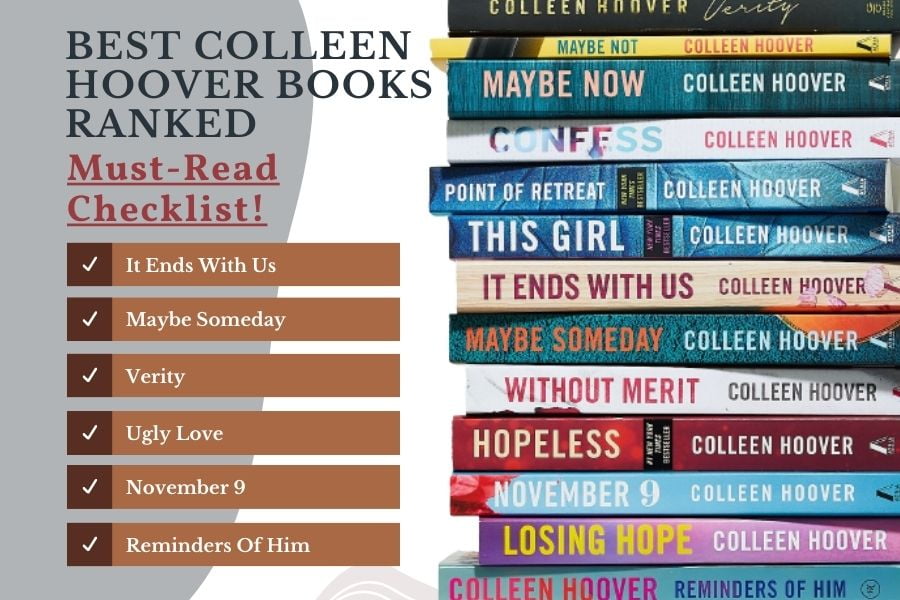 1. It Ends With Us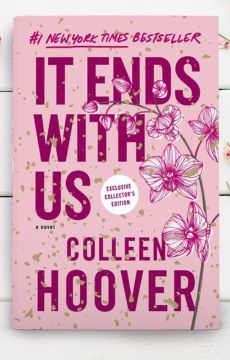 It Ends with Us is the ultimate fan favorite and best-selling Colleen Hoover book. It earned the 2016 Goodreads Choice Award for Best Romance and #1 New York Times Bestseller status to this day despite being released in 2016.
My readers will boo me if this doesn't make it number one on the checklist. Boy, oh boy! Everyone, and I mean it when I say EVERYONE loves this book. The sheer number of these books sold can make up the population of an entire country!
This romantic story has a special place in my heart because not only was it the first CoHo book I read, but also because of the power CoHo has in her writing, you can't help but empathize with the main protagonists.
It Ends with Us earned Colleen Hoover her title of "Queen of New Adult Contemporary Romance!" New Adult or Young Adult is the best-selling genre of this day and age.
It provides a fresh and realistic view of romance novels that allows the readers to relate, in a sense, to modern fairytales.
If there was a character that embodied the quote, It Takes Both Sunshine And Rain To Make A Rainbow, it'd be Lily Bloom. Despite her tumultuous childhood in a toxic household, she created the life she always desired.
Things began to take an unexpected turn when she met Ryle Kincaid, a confident neurosurgeon with a strict no-relationship policy.
Despite their initial clash, there's a strong attraction between them that neither can deny. However, Ryle's firm stance on avoiding commitments leaves Lily conflicted about pursuing a deeper connection.
Lily is determined to break the cycle of violence and create a better life for herself. Her own experiences fuel her determination to stand up against abuse.
Amidst her complex relationship with Ryle, Lily reconnects with a person from her past: Atlas Corrigan. Atlas was a homeless teenager who shared a special connection with Lily during her childhood. The bond they formed during their challenging times together… left a lasting impact on her.
As Lily's feelings for Ryle and Atlas intensify, she must navigate the complexities of love, loyalty, and personal growth. She faces difficult decisions as she uncovers the depth of Atlas' struggles and Ryle's complicated emotions.
It Ends with Us is a deeply emotional and thought-provoking novel that challenges the reader to consider the nuances of difficult situations.
Colleen Hoover's writing captures the rawness of human emotions and the impact of personal history on present decisions. The book delves into the intricacies of domestic abuse, personal growth, and the courage it takes to make choices that break the cycle of pain.
Through its evocative storytelling, the novel offers a heartfelt portrayal of characters who grapple with love, loyalty, and self-discovery. It is both a love story and an exploration of real-world issues, making it a powerful read that resonates with those who appreciate emotionally charged narratives.
One thing to note before you add this must-read CoHo book to your collection is the trigger warning. As I mentioned earlier, the book explores the intricacies of real-life problems that address domestic abuse. Beware of that if, in any manner, it is a triggering subject for you.
---
2. Maybe Someday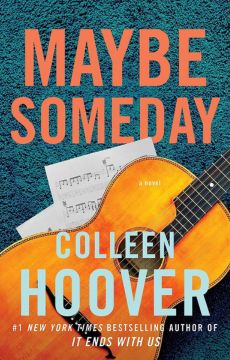 Second on our top-ranked Colleen Hoover checklist is Maybe Someday! Another new adult contemporary romance hit from CoHo that was published nearly a decade ago in 2014 and still managed to hold a place in our hearts.
I bring out my copy of Maybe Someday whenever I get nostalgic for those 2010s romcoms because it could truly be adapted into movies like Love, Rosie, or 500 Days of Summer.
However, the slow-burn wins over my heart, just like Pride and Prejudice by our beloved Jane Austen.
The story begins with a fellow The Walking Dead fan, Sydney Blake, who lives in her own idyllic bubble with her "perfect" boyfriend, Hunter.
Unfortunately, the bubble breaks when she discovers her boyfriend's affair with her best friend and roommate, Tori, ON HER BIRTHDAY. I mean, where do male characters get such audacity?
Anyways, Sandra is left with nowhere to go in the pouring next thing we know, our dreamy male protagonist, Ridge Lawson. She ends up on his balcony, who also happens to be her neighbor. Ridge is a talented musician, captivated by Sydney's voice as she sings along to his guitar playing.
Despite her recent heartbreak, Sydney's connection with Ridge grows stronger through their shared love for music. Ridge is intrigued by Sydney's musical abilities, and they begin to collaborate on songwriting.
Their creative partnership turns into a deep and genuine friendship, and they confide in each other about their personal struggles.
However, Ridge is in a committed relationship with his girlfriend, Maggie, and Sydney can't ignore their growing attraction. The emotional tension escalates as Ridge's feelings for Sydney become more apparent, and Sydney grapples with her own conflicted emotions.
The story takes an intricate turn when Sydney discovers that Ridge has been communicating with Maggie through sign language, as she is deaf.
This revelation adds another layer of complexity to their relationships and emotions. Sydney must navigate her feelings for Ridge while respecting the boundaries of Ridge's existing relationship.
Maybe Someday beautifully explores themes of love, loyalty, friendship, and the blurred lines between platonic and romantic connections.
Colleen Hoover's writing captures the intricacies of human emotions and relationships, providing readers with a poignant and heartfelt narrative.
The novel's incorporation of music and its ability to convey emotions adds an extra layer of depth to the story, making it a compelling read for those who enjoy stories that delve into the complexities of love and connection.
Although it falls under the new adult contemporary genre, this might be the only CoHo must-read book that a different age audience can read, which is also PG 13.
---
3. Verity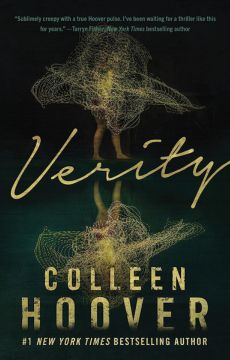 It was the first Colleen Hoover novel for which I sacrificed my sleep to finish reading it in just one night. Despite being a die-hard classic romance novel lover, this psychological thriller by CoHo truly brings out the essence of her versatile writing.
I can go on and on about Verity (2018)!
Lowen Ashleigh, a struggling writer burdened by financial woes, is presented with a life-changing opportunity when she's asked to complete a bestselling book series authored by Verity Crawford, a successful writer who cannot write due to an accident.
Lowen is apprehensive but agrees to stay at the Crawford residence to go through Verity's notes and manuscripts.
As Lowen delves into Verity's work, she discovers a hidden manuscript that contains Verity's deepest and darkest confessions. The revelations within this manuscript are shocking and disturbing.
It becomes evident that Verity is far from the innocent persona the public knew her as. The manuscript hints at Verity's jealousy, manipulation, and involvement in her children's death.
Lowen becomes increasingly engrossed in Verity's disturbing revelations, and she becomes drawn to Jeremy Crawford, Verity's husband.
Despite the challenging circumstances, Lowen and Jeremy form a close bond as they uncover the truth behind Verity's actions and mental state. Their connection goes beyond their professional collaboration, and they develop romantic feelings.
As Lowen and Jeremy's relationship intensifies, they uncover even darker secrets about Verity's past and her intentions. Lowen must navigate the fine line between fiction and reality as she finds herself amid a web of lies, manipulation, and danger.
The novel takes a suspenseful turn as Lowen's safety is compromised, and the truth behind Verity's manuscript becomes increasingly perilous. Lowen and Jeremy must work together to uncover the full extent of Verity's deceptions and protect their well-being.
Verity is a gripping romantic thriller that explores themes of trust, manipulation, and the power of secrets. Colleen Hoover's writing creates a tense and chilling atmosphere, leaving readers on the edge of their seats as they unravel the layers of deception.
The story navigates the complexities of human psychology and the consequences of hidden truths, making it a captivating and suspenseful read for those who enjoy romantic thrillers that delve into the darker aspects of human nature.
One thing to note is the number of young mothers or new mothers who have come forward on Reddit and Goodreads since CoHo gained worldwide popularity is how triggering and mentally harming the vivid descriptions of child abuse in Verity affected them.
Suppose you recently welcomed a new child and suffer from postpartum depression or struggle to differentiate fiction from real life. In that case, I'd highly suggest skipping this book for a while.
Read our verity book review to find out why we said what we did just now.
---
4. Ugly Love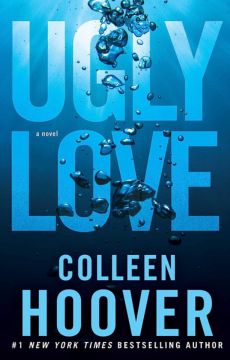 Ugly Love is another young adult contemporary romance hit by Colleen Hoover. The book was published in 2014 and is an unputdownable book that battles the conflicts of Love at first sight and the brother's best friend trope.
Tate Collins is a nursing student who moves to San Francisco to live with her brother Corbin. Her world turns unexpectedly when she meets Corbin's best friend and neighbor, Miles Archer.
Miles is a pilot with a tragic past. Despite their immediate and intense attraction, he's adamant about keeping their relationship purely physical.
Tate and Miles agree to an arrangement of no-strings-attached intimacy, hoping to satisfy their mutual desires without complicating their lives.
As their encounters become more passionate, Tate falls for Miles despite his emotional detachment.
However, Miles' emotional barriers are impenetrable, and he's unwilling to open up about the events that have scarred him.
Tate becomes determined to uncover the truth behind Miles' emotional distance as their physical connection deepens. She's intrigued by the glimpses of vulnerability he occasionally shows, and she believes there's more to him than he's letting on.
Amid their encounters, Tate learns about Miles' past Love, Rachel, who was central to the tragedy that shattered his ability to form meaningful relationships.
The truth behind Miles' scars becomes a painful revelation for both of them; it forces Tate to confront the reality of her feelings for him.
Tate's persistence pays off as she breaks down the walls around Miles' heart. They both grapple with their own emotions and insecurities, ultimately discovering that healing requires confronting the past and finding the strength to forgive themselves.
Through its evocative storytelling and deeply relatable characters, Ugly Love captures the transformative journey of healing and finding Love when it's least expected.
The novel resonates with readers who appreciate stories that blend emotional depth, passion, and personal growth, making it a captivating read within the new adult contemporary romance genre.
We've recently published a blog where we went on a detailed character analysis, an ugly love book summary, and our own review. You're most welcome to check out what we had to say in that article.
---
5. November 9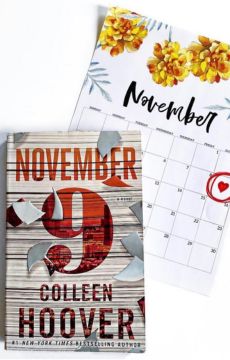 Following the trend of new adult contemporary romance, November 9, published by Colleen Hoover in 2015, is another Goodreads favorite. With a whopping 4.18 rating out of 5, November 9 is a beloved CoHo novel for Goodreads users.
Fallon meets Ben on November 9, a date that becomes a significant marker in their lives. Fallon, a young woman with burn scars on her face and body from a traumatic incident, has been avoiding relationships and focusing on her acting career.
Ben, a budding novelist, is haunted by a past mistake and his inability to move forward.
Their first encounter is spontaneous and heartfelt, sparking a connection neither of them can ignore. Despite the strong attraction, Fallon is moving to New York the next day, and they agree to meet each year on the same date, November 9.
Over the next five years, Fallon and Ben reunite on November 9, each time bringing the changes, growth, and challenges that life has thrown their way. Their meetings are a blend of shared emotions, revelations, and sometimes pain.
As they catch up on each other's lives, they also explore the feelings they've been harboring since their first meeting.
Their relationship evolves as they confront their fears, insecurities, and the impact of their pasts on their present. Ben's past secret is revealed, testing the strength of their connection. The characters struggle with their choices, the consequences of their actions, and the uncertainties of the future.
As the years pass, Fallon and Ben realize that their feelings for each other have deepened into a profound love. However, their journey is marked by obstacles, heartbreak, and unexpected twists that challenge the authenticity of their emotions.
Through its emotional storytelling and relatable characters, November 9 showcases the beauty and challenges of love that transcends time and circumstance.
The novel combines romance, introspection, and personal growth, making it a compelling read for those who enjoy stories exploring the intricacies of human connection and the heart's resilience.
---
6. Reminders Of Him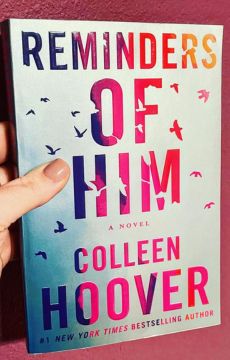 Reminders Of Him is the contemporary romance novel published before the sequel to It Ends with Us, It Starts With Us.
Kenna Rowan is released from prison after serving five years for involuntary manslaughter. She was driving drunk when she crashed her car, killing her boyfriend, Scotty Landry.
Kenna has been writing letters to Scotty every day she's been imprisoned, and she still loves him deeply.
Kenna returns to the town where she and Scotty grew up, hoping to be reunited with her four-year-old daughter, Diem. Diem is being raised by Scotty's parents, Grace and Patrick.
Landry, who is still grieving Scotty's death. They are understandably hesitant to let Kenna back into their lives, but they eventually agree to let her visit Diem.
Kenna also meets Ledger, Scotty's best friend. Ledger is a kind and understanding man who helps Kenna heal from her trauma. Kenna begins to fall in love with Ledger. Still, she hesitates to start a new relationship because she doesn't want to hurt anyone again.
As Kenna learns Diem, she realizes she is a good mother. She is determined to win back custody of Diem, but she knows it will be a difficult battle. She also knows she must forgive herself for what happened to Scotty.
In the end, Kenna can win back custody of Diem. She also forgives herself for Scotty's death. She knows she will never forget Scotty but can finally move on with her life.
Reminders of Him is a romance novel and a story about grief, forgiveness, and second chances. It is a powerful and moving novel that will stay with you long after reading it.
The book concludes our checklist for top Colleen Hoover books ranked by Goodreads users!
Once again, this is the ranking for the best CoHo books and a beginner's guide to reading her books. If you don't know which Colleen Hoover's book to start with, this is the perfect guide to her books.
---
What Books are Colleen Hoover Known For?
2022 was the year for Colleen Hoover as she conquered BookTok and claimed her throne, holding six out of the top 10 spots on The New York Times's paperback fiction best-seller list. She has sold 8.6 million print books, more than copies of the Bible, according to NYPD Bookscan, just in the year 2022.
So, what are the books that earned Colleen Hoover her The New York Times's best-seller title?
The book that rose her to popularity is none other than It Ends with Us. But, the book's success didn't upend the book community overnight.
Published back in 2016, the book earned some praise. However, thanks to CoHo's marketing campaign, she was able to capitalize on the budding era of BookTok and Bookstagram.
BookTok aided in the rise of the Colleen Hoover phenomenon, which ultimately sold 120,997 copies of It Start With Us, which is the sequel to It Ends With Us, in its first week.
Although the checklist above is one of the top-ranked CoHo books, her marketing strategies earned her recent surge in popularity.
In 2021, the first draft of the screenplay for the It Ends with Us movie was completed, and by April 2023, the official cast was announced.
Initially, fans were ecstatic when the ethereal Blake Lively was cast for the role of Lily Bloom. Things took a turn when the behind-the-scenes picture was released, and an outroar broke because of the costume choices.
Fans jumped on TikTok, Instagram, and Twitter to express their disappointment with the costumes and the actors cast for the male characters.
Soon enough, the announcement of the production being temporarily shut down was published. The reason behind it was the 2023 WGA strike. However, fans speculate it was due to the backlash the movie has received on social media.
To understand the marketing tactics behind her marketing campaign, check out this article by The Publishing Post.
Why are Colleen Hoover's books so good?
Colleen Hoover's books are not only for the hopeless romantics and lover girls who have wished for their fairytale romances since they were children, but also for the people to gain a realistic view of love in modern days that doesn't divert the audience from recognizing real-world problems.
She caters to a variety of audience, and the versatility and real-life emotions in her writing makes it a good read, no matter what the genre is. Her beloved genre, new adult contemporary romance, can be adapted for any age group.
Whether you are a late teenager, boomer, young adult, or millennial, CoHo books will always be relatable for you. The recent trend in young adult readers reaching out for contemporary romance played a big role in relatability.
What Age Is Best for Colleen Hoover Books?
As mentioned earlier, most of Colleen Hoover's novels fall under the new adult contemporary romance genre. So, what is the new adult contemporary romance genre?
New adult or young adult refers to people between the ages of 18-25. Her target audience is people who have newly entered adulthood or are in their late teens. However, anyone well into their 30s or adults of any age can enjoy CoHo books.
Since the surge in popularity, many people have stepped forward on Reddit and Twitter about the toxic and abusive male characters in her novels. Some even went to the extent of calling her main male characters downright predatorial.
One Reddit user posted a quote where a character is describing their SISTER — "She's just a little kid with tiny boobs and a hormone-addled brain." from the book Never Never by Colleen Hoover and Tarryn Fisher and captioned it — "Why do we need to know about a 14yo's boobs? (Never Never by Colleen Hoover and Tarryn Fisher)
Exposing preteens or new teenagers to such characters and tumultuous circumstances is certainly not appropriate or healthy. Hence, if you are a parent reading this, watch for what genre your kids are reading.
Final Words
Phew! We have reached the end of our journey with Colleen Hoover. How excited are you on a scale of one to ten to explore the treacherous and heartfelt romance of Colleen Hoover novels? For me, the scale doesn't even exist!
Last but not least, I hope this article helped you begin reading Colleen Hoover novels and learn a little about our favorite young adult contemporary romance author of this generation!